Monday, June 3, 2019 - 13:17
On Sunday June 2nd three brave souls from the UK garden retail sector will be taking to the skies to raise £15,000 for the Greenfingers Charity. Here we catch up with one of the 'wing walkers', GIMA Director, Vicky Nuttall, to find out more about her FUNdraising journey.
"I've recently celebrated a milestone birthday, so I felt it was time to get out of my comfort zone and challenge myself. The Greenfingers Wing Walk came along at the perfect moment, so I just knew I had to get involved! After all, what is more 'out of your comfort zone' than flying across the skies of Wiltshire whilst strapped to the top of an airplane?! Weirdly, I couldn't jump out of a plane, but standing on one whilst it completes fly-bys, dives and banks feels so much more achievable! The landing is one area I'm trying hard not to think about, as is the acrobatic elements, so I'll be working to focus on the whole experience rather than individual elements.
"Additionally, I am a proud ambassador for Greenfingers so have been looking for an opportunity to show my continued support of the charity. I'm also a proud Garden Re-Leaf Day Sponsored Walk 100 miler (it's an exclusive club of three) and over the last five years have raised funds that way, but now just feels like the right time to do something different, and to really throw myself into an exciting challenge."
Having never done anything like a wing walk before, Vicky who is a self-confessed "anti-adrenaline junkie" added: "I won't lie, I'm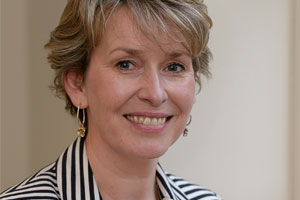 terrified of the prospect of the wing walk, but also incredibly excited. I've no doubt it's going to be an afternoon to remember! But no matter how scared I am, I'll just have remind myself why I'm doing this. You can't put a price on what Greenfingers does, so being able to contribute something means a great deal.
"So often hospices don't have the funds to invest in outdoor spaces, so having a charity such as Greenfingers ready and willing to create magical garden spaces is amazing. We all know the benefits that gardening can have upon any of us, let alone a child with a life-limiting illness. It's important that we continue help Greenfingers create magical moments for these children and their families."
To help reach the combined £15,000 target set for the three wing walkers, Vicky will be undertaking a busy regime of fundraising events. From asking her friends and family to dig deep, she'll also be holding a garage sale and a number of local events such as a coffee morning to keep the sponsorship rolling in. As the Director of GIMA – one of the industry's leading trade associations – she'll also be reaching out to members, and industry friends and colleagues for assistance.
Anyone wanting to donate can do so by visiting https://www.justgiving.com/fundraising/gima-wing-walkers
To find out more about Greenfingers Charity please visit www.greenfingerscharity.org.uk. You can also join in the conversation by joining Greenfingers on social media - https://www.facebook.com/Greenfingerscharity/, @GreenfingersCha on Twitter, and @Greenfingerscharity on Instagram and LinkedIn.