Friday, April 6, 2018 - 09:42
With national pet month well and truly underway, we're seeking the best gifts to spoil our favourite furry friend with.
During our exploration of pup goodies we have discovered Nineteen 87, a relatively new super-premium pet food that is made in a bakery in rural North Wales. The range is created through a continuous baking process and uses 50% fresh chicken, beef, lamb or salmon from UK based farms in each flavour. Full of delicious botanicals and scrumptious nutrients the range is sure to fuel pups with all the best energy whilst boasting a wealth of sophisticated flavours. British Beef with carrots and thyme and Scottish salmon with spinach and dill are just two of the options available and they sound so good we're tempted to swap our own Sunday roast for them..! What is more, the brand's creator, Graham Wheeler, has over thirty year's experience in pet product technology and two beautiful Labradors of his own to trial the range before it hits the shelves.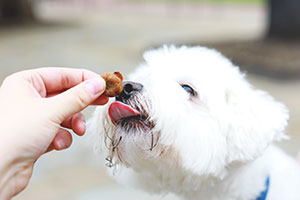 Rebel enjoying his duck bites. Picture by Eva Thompson
Nineteen 87 are additionally offering their Taster Packs at half price this Spring. These contain a 750g pack of Welsh Chicken with turmeric and sweet potato flavoured food, scrumptious baked duck bites with rosemary and raspberry and goat bars which also contain banana and sweet potato. Available through petshop.co.uk, Ocado and in Pets at Home stores for only £4.99 we'd recommend this delicious Taster Pack as a perfect pampering present for pups this April.
Moving on from dog food, we delved into the notoriously dog-friendly Orvis UK. With stores all over the country and a limitless supply of fantastic dog products, we loved exploring their treasure trove of pup delights. We were particularly drawn to their Shotshell collar and lead, Squeaky Tweed Bone dog toy and of course their famous memory-foam dog beds which can be personalised to add that extra special touch.
Shotshell Collar and Lead available from £59 (or 6" lead £39 and collar £29)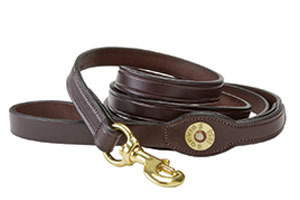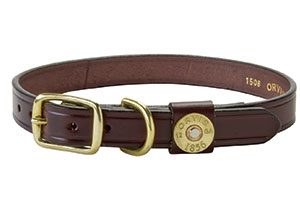 A distinctive dog collar will make your dog feel flashy this national pet moth with an actual brass shotgun hull and plain leather lead both crafted in genuine, finely tanned leather. With this set, your pup will be the most dapper looking hound in town.
Squeaky Tweed Bone available from £14.99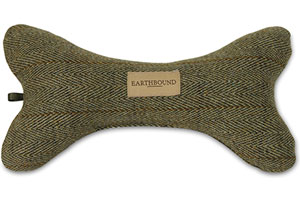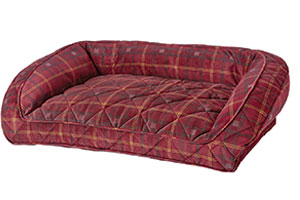 Orvis memory ComfortFill Bolster Dog Bed available from www.orvis.co.uk from £139 - £2599
Elegant wool tweed elevates this plush squeaky bone above an ordinary dog toy. It certainly has a refined look thanks to its handsome tweed design and will promise hours of entertainment for pups who fancy a play.
Built like a couch with extra length for multiple dogs or dogs who like to stretch out, this plush bolster indulges pets with additional, secure comfort.
For more information about how to treat your pet this national pet moth please visit www.orvis.co.uk/dog-products