Monday, March 26, 2018 - 14:58
There is a flourishing trend for inner-city gardens across the towns and cities of the UK with the advice from GARDENA, and with bank holiday season fast-approaching this offers the perfect opportunity to tend to the garden and tackle the jobs that may have been neglected over the cold winter months.
With the Easter, Early May and Spring bank holiday's just around the corner, GARDENA provides this handy guide to help city-dwellers find their green-fingers and cultivate their own green haven, whether that be vast and sprawling, a minimal balcony garden or even a communal space or allotment plot.
Spring clean
First things first, as the weather warms up, the garden will literally start to spring back to life, and before tackling any bigger gardening tasks, undertaking a full spring clean is necessary. Sweep away dirt and debris using the GARDENA combisystem Road Broom and rake away leaves, moss or rubbish that has accumulated in lawn areas, whilst also aerating with the combisystem Spring-Wire Rake.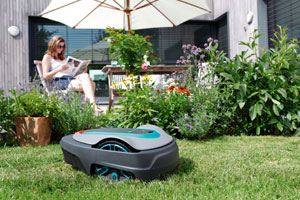 Lawn care
Lack of time is often cited as a restriction to city gardeners, and the GARDENA SILENO city offers budding gardeners fantastic lawn results, whilst saving them time to spend on other areas of the garden.
If you have a lawn area in your city garden, the completely robotic system is the ultimate tool for all of your lawn care needs. Perfect for small city garden spaces; it completes everything automatically, covering up to 250 square metres and is equipped with a SensorCut system, to ensure stripe-free, even mowing results and can tackle slopes up to 25%. The robotic lawnmower manages to manoeuvre itself when obstacles are met, and cutting height is easily adaptable. Users are able to place a PIN code for additional security measures.
This is also available as a smart version which covers a broader 500 square metres that can be connected via the app. The smart SILENO city is part of the GARDENA smart system where both watering and lawn care can be combined in one platform, giving garden-lovers complete control of their garden, any time, via a mobile app.
A common inner city concern when it comes to gardening is disturbing the neighbours with noisy appliances; but you need not worry with the SILENO city robotic lawnmowers, it's incredibly quiet and returns automatically to the charging system once a task is complete.
Make the most of small spaces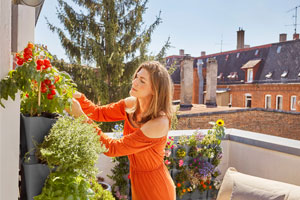 Limited space shouldn't limit gardening goals, there are lots of space-saving ideas and tools to help you to maximise your outdoor sanctuary, even if it's just a small terrace or balcony garden.
Choose furniture wisely, a table with chairs that can be tucked away underneath, when not in use, saves space efficiently.
Tap into the trend for vertical gardening. It's a great trick to maximise small garden spaces. Gardening upwards, utilises fences and walls, whilst freeing up floor space. The GARDENA NatureUp! vertical gardening system is made up of various weatherproof plastic plant containers that are securely stacked using a simple connecting system, which can be expanded over time, by adding additional containers. There are even corner elements, to make the most of every nook and cranny.
The GARDENA NatureUp! allows for plants, herbs and vegetables to be planted directly in the containers, the clever system ensure water is unable to accumulate so excess can be drained off, ensuring there is no mess on the walls or floors.
GARDENA also has the efficient and stylish Balcony Box, a space-saving set of gardening tools; all the basic equipment needed for urban gardening, including a trowel, grubber, secateurs, hand brush and a storage box with integrated dustpan in the lid. The robust and well-organised box protects tools against all weathers. With room for more tools and the option to hang up, the Balcony Box is space-efficient.
Make watering simple
Watering can be another time-consuming and stressful task for green fingered city bods, but installing an irrigation solution such as the GARDENA Micro-Drip-System will enable you to enjoy the gardening season without any of the stress. The system is easy to install and caters to all types of gardens, from potted plants to expansive flower beds. The ability to water your garden automatically with the Micro-Drip-System, again affords you more time to tackle other gardening tasks over the bank holidays and beyond, or to just sit and enjoy your city garden.
Set your garden goals
Every budding gardener will have different aspirations for their outdoor haven, from growing their own herbs and vegetables, beautiful hanging baskets or flower beds or just simply having a perfectly groomed lawn. Set your gardening objectives as you go at the beginning of the season and tick off your goals as you go along the gardening season. A little planning goes a long way, and knowing when to plant or weed, will make a huge difference in your gardening success.
For more information on GARDENA please click here