Thursday, April 11, 2019 - 11:28
It's far from a dog's life for man's best friend at Balmer Lawn, as it launches an exclusive 'Barking Lawn' menu for its four-legged guests.
The award-winning dog-friendly Hampshire hotel has always welcomed the furry fraternity through its doors but has now decided to offer them a place to sit at the table rather than underneath it to enjoy a bowl (or two) of what they really fancy – and what's good for them. 
The Barking Lawn menu, which launches on Monday, 1st April, begins with a flavoursome pawsecco aperitif, sure to leave your hound bright eyed and bushy tailed for the menu ahead. Next up, your faithful friend can enjoy a fresh pulled pawk salad, featuring crisp leaves from our homegrown vegetable patch. For mains, your four-legged friend will enjoy a delicious poochini mushroom risotto; a nutty blend of porcini mushrooms gently sautéed in truffle-infused oil and rosemary. 
Be it man or beast, who doesn't like cake for dessert? The homemade woofles with a chocolate bark are freshly made with pant'ry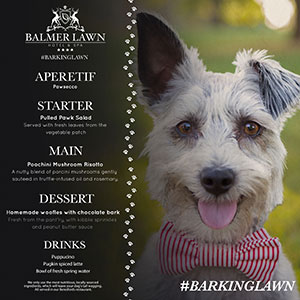 ingredients, served with a chocolate bark, peanut butter suace and kibble sprinkles. 
Michael Clitheroe, General Manger at Balmer Lawn Hotel & Spa and Canine Relations Officer at the Balmer Lawn, said: "We're barking mad for our furry friends here at Balmer Lawn and believe they deserve more than just a bowl of Pedigree Chum when they come and visit with their owners! So we're excited to launch our new menu in April and are sure we'll have lots of happy wagging tails in the hotel!"
The Barking Lawn menu will be available on the terrace at Balmer Lawn from Sunday 1st April.