Thursday, April 11, 2019 - 11:28
paragraphs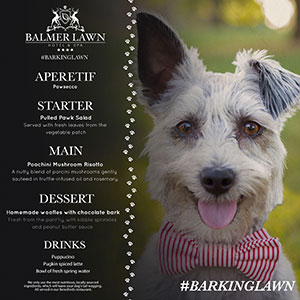 It's far from a dog's life for man's best friend at Balmer Lawn, as it launches an exclusive 'Barking Lawn' menu for its four-legged guests.
The award-winning dog-friendly Hampshire hotel has always welcomed the furry fraternity through its doors but has now decided to offer them a place to sit at the table rather than underneath it to enjoy a bowl (or two) of what they really fancy – and what's good for them. 
The Barking Lawn menu, which launches on Monday, 1st April, begins with a flavoursome pawsecco aperitif, sure to leave your hound bright eyed and bushy tailed for the menu ahead. Next up, your faithful friend can enjoy a fresh pulled pawk salad, featuring crisp leaves from our homegrown vegetable patch. For mains, your four-legged friend will enjoy a delicious poochini mushroom risotto; a nutty blend of porcini mushrooms gently sautéed in truffle-infused oil and rosemary.