Garden Trade Specialist magazine talks to Matt Jordan, digital product manager at GBC Buildings For Leisure LLP – a leading retailer of sheds, greenhouses and leisure buildings – on its contemporary designs and how the brand is being driven forward through display centre expansion and marketing at public events...
Tell us a little about about GBC...
The Garden Buildings Centre (GBC Group) was founded in 1986 at Webbs of Wychbold, near Droitwich, Worcester. We have grown to become the UK's premier retailer of quality garden and leisure buildings with branches throughout the UK. We are the UK's leading retailer for The Malvern Collection, a large range of garden buildings that have been manufactured for over 40 years.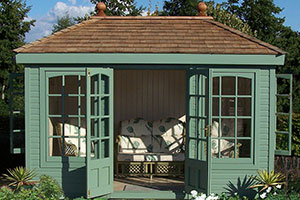 What can people expect when they visit a GBC display centre?
People can expect to see a variety of buildings of the highest quality, coupled with top-class customer service from our expert staff. At GBC, we are here to listen to your requirements and provide a solution from our vast portfolio of garden buildings. Our display centres are kept clean, well merchandised and staffed with friendly and helpful people, who really know what they're talking about.
How many sites does GBC Group have?
In 2018 we will have 37 display centres throughout the UK. Our major expansion has taken place during the last 15 years, with new branches opening at many of Britain's top garden centres. With branches operating from Dorset to Scotland, GBC are now within easy travelling distance of millions of people. The internet has also brought many millions more within reach.
Which product can you see being your best seller this year?
Two main areas of continual growth and interest are greenhouses and garden offices. People love the theme of 'Grow your own'. It's great because it's something for the whole family; Mum, Dad and the kids can all get involved. It's fun, educational and gets people outdoors. We have seen quite an upward trend in greenhouse sales and expect this to continue even further, especially with our expanding range of Victorian greenhouses, which have been in recent years.
There's a similar notion towards garden offices too. A lot of people want to work from home, cut out the commute and save on office rent. A garden office can be modern or traditional, customised to your requirements and add value to your property. Working in a garden office myself, and being surrounded by nature, I can personally endorse the well-being effect it has on your state of mind.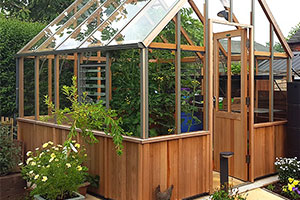 Where do you see GBC Group going in 2018 and beyond?
This year we have expanded to 38 sites, recently opening our 37th branch in Ponteland, Newcastle-Upon-Tyne and our 38th branch soon to be opened in Ditchling, West Sussex. Our product range is ever expanding with new innovative buildings and designs and we're sure this will be a continual success, with our customers and for our business.
Any more news from GBC Group?
For 2018 GBC Group have invested in a new 'shows' division to provide us with representation at some of the leading national gardening/home improvement shows. Our team have been working extremely hard to create a beautiful stand to display our buildings from. You'll be able to see us at shows such as Ideal Home, BBC Gardeners' World Live, Harrogate Spring Show and Southport Flower Show.
This year we've also been delighted to have our sheds and other products featured in some of the top publications. We've been busy working on our blog, where you can find tips on how to insulate sheds to all the new product updates! 
Find GBC's sheds and full range of outdoor buildings at GBC Group
images