Tuesday, June 11, 2019 - 15:58
paragraphs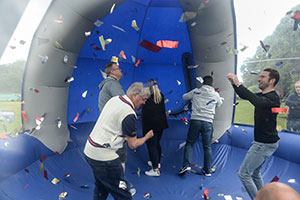 A successful day and night of fundraising was had by all who recently attended the 10th annual GIMA Charity Day, held at Telford Hotel and Golf Resort on 6th June.
Celebrating its 10th anniversary in 2019, the event brought together garden industry suppliers and retailers, with 18 four ball teamscompeting for the GIMA Golf trophy, and two teams battling it out on the new-for-2019 Crystal Maze course.
This year saw the team from Hartman retain the golf crown having also won in 2018, with a superb score of 86. Sunshine Garden Centre and Mr Fothergills Seeds following closely behind with 85 and 84 points respectively.
Hole 7 was once again home to the 'beat the pro' competition where teams donated a minimum of £5 per player to place their ball closer to the pin than the hotel's resident professional.  This year 13 individuals proved they had what it takes to take on the pro, with the winners being Derek Bunker, Simon Mulholland, Paul Crossland, Patrick Thick, Chris Daws, Steve Ainscough, Keith Laird, John Ducker, Phil Harrison, Pete Bunker, Aide Lewis, Simon Davidson, and Antony Barrett.