Wednesday, May 22, 2019 - 10:50
paragraphs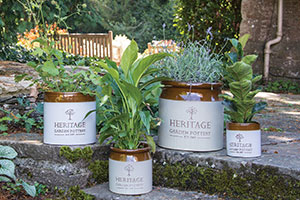 Woodlodge has expanded its flagship Heritage Garden range of classic containers, offering retailers additional opportunity to drive sales of pots and containers this spring.
The Heritage Garden line-up, an iconic range with proven sales appeal, is inspired by traditional horticulture and the nation's love of gardens. It is one of the most instantly recognisable brands of prestigious containers, combining classic design with contemporary style.
Michael Wooldridge, Managing Director at Woodlodge, said: "Garden centres are reporting strong spring sales, with favourable weather over Easter underpinning retailers' confidence in the season. We know that our flagship Heritage Garden Pottery range is highly regarded by consumers, and expansion of the range for 2019 hands retailers the opportunity to further grow sales, with new lines that appeal to shoppers of all ages."
Tudor Terracotta Pots sporting the Heritage Garden Pottery logo will up the stakes in terms of sales appeal and ability to clock-up impulse sales. Made from the highest quality clay, Tudor pots offer the potential to create a timeless display in any garden space. Their classy design holds broad appeal across a wide spectrum of customers - from traditional shoppers looking for terracotta to enhance mature gardens, to first-time consumers seeking stylish pots for urban entertaining areas.