Thursday, May 31, 2018 - 10:26

LOFA's (Leisure and Outdoor Furniture Association) LOFAssured initiative ensures that all cushions sold by members comply with current government fire safety regulations.
LOFA is raising awareness of fire safety standards/regulations for garden furniture cushions in this young campaign and, already, seventeen members are certified with 21 in progress and soon to be completed.
Certified members are – 
A Mir & Co - www.a-mir.co.uk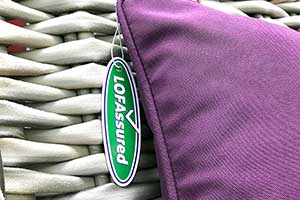 Culcita - www.culcita.ie 
Daro – www.daro-cane.co.uk
Desser - www.desser.co.uk
Europa Leisure – www.europaleisure.co.uk
Extreme Lounging- www.extremelounging.com
Firmans - firmansdirect.com 
Glencrest Seatex – www.glencrestseatex.co.uk
Glendale Garden and Leisure – www.glendale-leisure.com
Hampson Agencies – www.jati-kebon.com
Hartman UK - www.hartmanuk.com 
Kettler (GB) Limited – www.kettler.co.uk
Lifestyle Garden - www.lifestylegarden.com
Maze Rattan - www.mazerattan.com
Munro Importers - pagodafurniture.co.uk
Norfolk Leisure Lifestyle Limited – www.norfolkleisure.com
Quest – www.questleisure.com
One of the conditions of LOFA membership is that members must adhere to a code of conduct, part of which is compliance with all current legislation; it is this culture of propriety that the retailer and customer buy into when they source product from LOFA members. LOFAssured is a distinguishing factor setting LOFA products apart from other non-compliant suppliers. LOFA appointed FIRA (Furniture Industry Research Association) and entered into a Primary Authority Partnership with HertfordshireTrading Standards to aid the members in their quest for full compliance.
WHAT IS LOFA?
The Leisure and Outdoor Furniture Association (LOFA) is a UK trade association representing the interests of its members who are some of the leading manufacturers and distributors of quality garden furniture and barbecues in the world.
LOFA's primary aim, as a professional trade association, is to work with its members to develop good working practices, a respect for the environment and to provide consumers with up-to-date information on lifestyle products for the garden.
We organise an annual trade exhibition for our members, SOLEX , where the leading garden leisure products are launched.
LOFA was formed 50 years ago in 1967, and we celebrated that recently !
For further information on the LOFAssured initiative, call 02392 258844 or visit the website.