Monday, June 4, 2018 - 09:34
Last week, representatives from Greenfingers Charity and Kew Green Hotels gathered at Marriott Grosvenor Square in London for a glitzy evening after their partnership was shortlisted as a finalist for the Business Charity Awards.
The partnership has gone from strength to strength with staff from their 57 hotels across the country organising their own FUNdraising events which ranged from sleepathons to cake sales, comedy nights to endurance events since Greenfingers Charity was chosen as the company's Charity of the Year in 2016.
Although the partnership did not win on the night, both Kew Green and Greenfingers Charity were honoured and humbled to be shortlisted.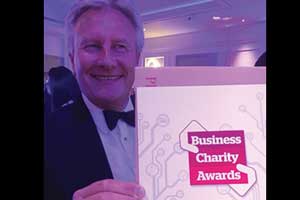 Kew Green, Managing Director, Neil Sewell said:
"It was a privilege to represent the partnership of Kew Green Hotels and Greenfingers at the recent Business Charity Awards 2018. To be a finalist, on our first entry is testimony to the commitment, creativity and initiatives taken by everyone in Kew Green Hotels. 17 months into our journey and it's clear that we have achieved incredible things at the total amount of £158,000.00 and we're just getting started."
John Ashley, Chairman of Greenfingers Charity said:
"Kew Green Hotels has gone from strength to strength in the first part of 2018. Hard working and tireless staff have been putting the FUN into FUNdraising with many events being held at their hotels across the country. Kew Green teams have been busy helping to raise awareness of the partnership to raise money to create magical hospice gardens for life limited children. We have been overwhelmed with the amount of money they have raised through the dedication and enthusiasm of their staff. Kew Green were worthy and outstanding finalists and through the eyes of Greenfingers Charity and the children and families we support you are all winners!"
or more information about Greenfingers Charity please click here