Thursday, January 9, 2020 - 15:39
Garden Trade Specialist editor Victoria Galligan catches up with Malini, a leading brand in premium soft furnishings, to find out the interiors trends for 2020 and find out why the brand is a popular choice for garden centres…
Malini is likely a brand you'll have come across – its luxury cushions, throws rugs and quilts are stocked in many of the high-end garden centres in the country. When the company began trading in the 90s, its first big deal was with the Pier chain of furniture retailers and since then it's gone from strength to strength, becoming a favourite supplier of premium cushions, throws, quilts and rugs.
And the success of the company, now into its third decade of trading, is all in the R&D, say its designers.
I spoke to the team about keeping ahead of trends and they told me: "Design is a big deal for us – we're a contemporary brand driven by colour and texture.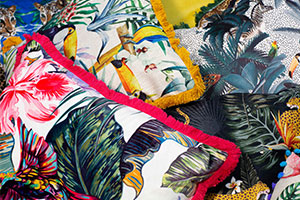 "We have two major product launches a year, which run parallel to the spring/summer and the autumn/winter fashion seasons on the high street.
"We do a lot of research and development in the run-up to the launches and we're savvy about the latest colours and themes coming through. That's why customers trust us – they know they can leave the trend-spotting to us."
Current trends for the Spring/Summer 2020 season are reflected in Malini's latest range. Bright, fresh tones, bold geometric patterns and sumptuous fabrics with a dash of metallic glamour ensure the brand continues to lead the way in luxury home furnishings. Exotic animals are reflected in the collection too – a resting leopard surrounded by metallic leaves adorns a cushion which would make a luxurious addition to any seating area, and toucans peek out from a bold and beautiful rainforest design. Meanwhile curved, flowing lines provide a contrast to the straight lines in the geometric designs.
While the Malini design team have the style know-how which ensures customers are offered cutting-edge products, its sales team are on the road with samples of the fabrics and products to ensure businesses get exactly what they need.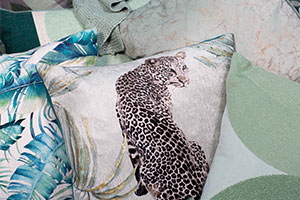 Operating nationwide with customers from Scotland to Cornwall, Malini agents deal with some of the largest garden centre chains in the UK and Ireland as well as smaller, independent retailers.
And back at its London head office, the distribution operation is there to ensure customers get their orders in good time.
The team added: "We're into our third decade of trading now and our buyers know they can rely on us to get the trends right. Because we've got so much experience in the business, they trust us to deliver."
Malini invites Garden Trade Specialist readers to come and see the products for themselves – from sumptuous velvets to distinctive foil prints, their products will be on display at the Furniture Show from 19-22 January and at Spring Fair from 2 to 6 February, both at the NEC in Birmingham.
For more information, or to see Malini's latest collection, see malini.com or call 0208 459 5865.