Wednesday, July 18, 2018 - 17:13
It's the time of year when everybody wants to be outside. Products which bring living outdoors – and are not only hardy and functional, but easy on the eye too – are the biggest hit with customers. Editor Victoria Galligan chooses her Top 10 buys…
1. Dusk Till Dawn Lighting 20 Bulbs string lights, £32.94 at Amazon.co.uk
This range of lighting is truly the icing on the cake for customers who want to party into the night. These bulbs contain tiny pink flowers. See Bonningtons.com for the full range and trade prices.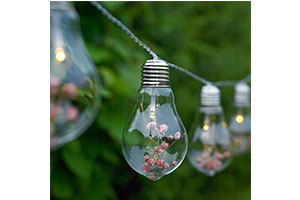 2. The Q9, Muztag Outdoor Fires, £759.99 from RobertDyas.co.uk
The Q9's classic features and ceramic tile top give it an austere but distinguished style. Features include a  concealed cylinder, variable gas valve, adjustable feet and a rain cover. The fire can be used with LPG or butane.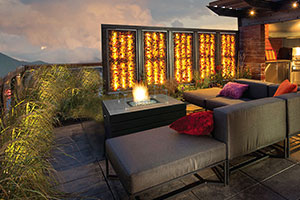 3. Bali Curved Lounge Dining Set, Hartman Outdoor Products, £2,945 at Garden 4 Less
This contemporary shaped lounge dining set adds a designer look and feel to any outdoor space. The weave furniture is teamed with Weatherready permeable cushions so no need to bring cushions in when it rains. Hartman's marketing manager Richard Ferguson said, "We're also releasing a whole new range of wicker furniture for next season, which we're really excited about!"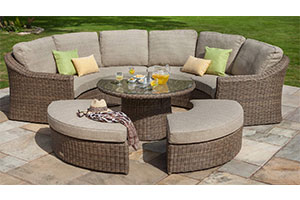 4. Glendale Vintage Grey Gazebo, £349.95 at GardenOasis.co.uk
Available in three sizes and a range of finishes, Glendale gazebos offer protection from the unpredictable British weather as well as shade for those hotter days.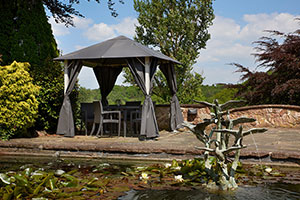 5. Lay-Z-Spa Palm Springs, £435.40 from Amazon.co.uk
This six-person round inflatable heated hot tub is a great option for those wishing to relax in luxury. Also ideal for cooler evenings throughout the seasons, hot tubs are becoming increasingly popular with customers. See wiltonbradley.com to download a catalogue.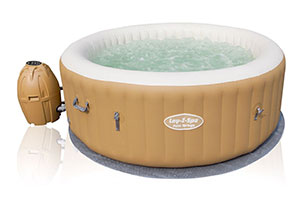 6. Equinox Dining Collection, Barlow Tyrie, from £265 per chair at gardensite.co.uk
Barlow Tyrie has been making outdoor furniture since 1920, and their designs (pictured) combine contemporary design with excellent workmanship. The Equinox range offers a 3m-long table for those larger gatherings.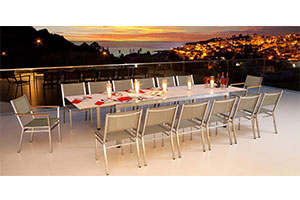 7. Schiedel Isokern Garden Fireplace, from £749+VAT
Versatile and stylish, the Garden Fireplace creates a stunning central focus for any outdoor living space while keeping smoke at bay, making it the ideal solution to alfresco living, dining and heating.
It can be freestanding, raised or built against a wall which, along with its relatively small footprint, makes it perfect for even the tiniest of gardens. The addition of a barbeque grill allows it to double up as an outdoor kitchen.
The Garden Fireplace is constructed of naturally lightweight yet highly insulating pumice, providing all the insulation needed to take the chill out of those cool summer evenings.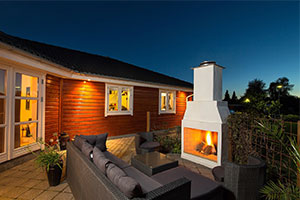 8. Bahama Oval Table and Stools, Zest, £337.99 at Greenfingers.com
The Bahama set is a sturdy and attractive outdoor furniture option. Suitable for evening entertainment or a relaxing afternoon event, the bar-style stools create a laid-back yet sophisticated setting for guests to enjoy.