Thursday, April 12, 2018 - 09:28
ONE OF the UK's leading nurseries, Wyevale Nurseries, has seen a growth in sales of its range of specimen shrubs and has increased its own production by 300% in the past three years.
Wyevale Nurseries in Hereford has created additional bed space on its nursery for specimen shrubs and has extended the range recently to include several native hedging varieties to keep up with demand.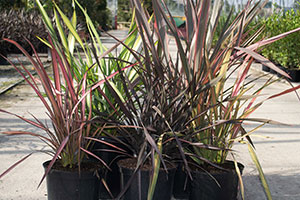 Adam Dunnett, Sales and Marketing Director at Wyevale Nurseries in Hereford, said:
"Our new specimen beds are quarter of a hectare each and the total additional area space is half a hectare. We also use drips for accurate and efficient irrigation for all our specimen shrub range. These additional beds now bring the new 600 bed specimen area to nearly two hectares of 7.5 litre (L) and 15L pots. We plan to install another quarter of a hectare next year too."
"Customers use specimen shrubs as the backbone plants for most commercial and some residential projects, which planting schemes are built around. They also make ideal solitary plants as points of interest. The housing industry is currently the largest market for us for specimens. We are also finding holiday parks and the education sector are using more specimen shrubs too."
One of the key lines in this range is Phormiums. Wyevale Nurseries grow Phormiums in a range of sizes – 3L, 7.5L and 20L pots, giving customers different options depending on their budget and required impact. For spot planting as features in leisure parks or commercial projects, or to provide instant impact in show homes or garden make overs, Phormium specimen plants make a statement.
Adam added:
"We produce the largest range of coastal evergreens of all UK growers and are renowned for both quality of product and excellent stock holding. Our range is under constant review with new, improved varieties regularly introduced."
The product selection available from Wyevale Nurseries is enviable across the industry and the talented team regularly introduces new, award-winning plant varieties.
Its main business is to supply garden centres, landscape contractors, local authorities, foresters and landowners with a comprehensive array of trees, shrubs, hedging, herbaceous and specimen plants.