Tuesday, April 10, 2018 - 14:05
Now spring has officially sprung so can the Quit That Itch campaign, as we can finally say hello to warmer weather, lighter evenings and beautiful flowers in bloom. However this season also brings with it a rise in tree and grass pollen which can be an irritation to both you and your furry four-legged friend.
Skin and coat complaints in dogs are most commonly seen during the spring and summer months. To help dog and cat owners across the country support the health and wellbeing of their pets Lintbells, manufacturer of the UK's No.1 Veterinary Skin and Coat Supplement* YuMEGA has launched the Quit That Itch campaign, for the second consecutive year with more helpful hints and tips than ever before. The three month long campaign aims to raise awareness of the importance of healthy skin for pets, whilst highlighting how pet owners can help support a healthy skin and coat for their four-legged friends.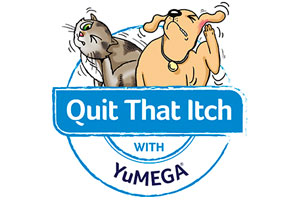 Throughout the campaign, Lintbells will be offering tips and advice to pet owners. These helpful hints will help pet owners determine if their four legged friend is experiencing itchy skin, along with things to look out for when you are out and about with your pet.
They will also be running a number of competitions giving people the chance to win YuMEGA Itchy Dog and YuMEGA Cat supplements, as well as sharing top tips across their social media channels. Lintbells can be found on Facebook (@Lintbells.Pet.Health) Instagram (@Lintbells_pet_health) and Twitter (@LintbellsPet)
Alethea Maillard, Marketing Manager at Lintbells said:
"We are thrilled to be launching our Quit That Itch campaign for the second year in a row. The health and wellbeing of both pets and their owners is hugely important to us, and we believe this campaign proves that."
The YuMEGA Quit That Itch campaign will run from April – June. To find out more information and how YuMEGA supplements can help your pets skin and coat health, visit http://www.lintbells.com/dog-health/itchy-skin.
For more information about Lintbells please visit www.lintbells.com or call 01462 790886.