Monday, April 1, 2019 - 12:55
STAFF at one of the UK's leading commercial nurseries are celebrating this week (Monday, April 1, 2019) after being granted the sale and propagation licence for an award-winning Pyracantha.
Wyevale Nurseries in Hereford will be growing Pyracantha 'Red Star', which was the winner of the Innovation Award in the category of woody plants in January at IPM ESSEN 2019.  
Kyle Ross, Production Manager at the Containers Division at Wyevale Nurseries, explained: "We're extremely excited to have been granted the sale and propagation licence for Pyracantha 'Red Star'. It was bred by Van der Sar Longlife Plants in the Netherlands and we obtained the licence from Plantipp.
"It's such a stunning plant with year-round interest. It produces an abundance of glossy, vivid red berries and they can remain on the plant through Christmas and into February.
"The longevity of the berries has prompted the novel idea of using this Pyracantha as a house plant, particularly over the festive period – bringing its seasonally topical colours inside. 
"Pyracantha 'Red Star' has less thorns than standard Pyracantha making it far easier to handle. Combine this with the fact it is evergreen, produces a mass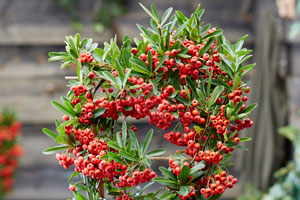 of flowers through late spring and summer and its showy winter berry colour, Red Star certainly offers something each season.
"We will be growing Pyracantha 'Red Star' in a three-litre pot and will have a trial quantity available next summer (2020) and then a full promotional quantity available in 2021.
"We're so happy to be working with a selection of breeders and building new relationships so we can support plant innovation."
The product selection available from Wyevale Nurseries is envied across the industry and the talented team regularly introduces new, award-winning plant varieties.
Its main business is to supply garden centres, landscape contractors, local authorities, foresters and landowners with a comprehensive array of trees, shrubs, hedging, herbaceous and specimen plants.