Tuesday, March 20, 2018 - 11:46
With the first day of spring falling on Tuesday 20th March, its time to find the most beautiful blooms with longer days and lighter nights are finally in sight. When we think of spring we think of newborn lambs, hearing the birds begin to sing, and of course flourishing trees and colourful flowers.
To get you through the last few weeks of winter, last minute rental provider Snaptrip.com shares the best blossoming places to visit this spring.
1.       Daffodils at Bodnant Garden
The daffodil is the proud emblem of Wales, and the country is home to some of the most breath-taking gardens in the UK. Every year the daffodil display at Bodnant Garden grows, with a carpet of yellow covering the fields. The site is open to the public from January with its main show taking place around March/ April time, perfect timing for the Easter holidays!
2.       Cherry blossom at Brogdale
There's no need to travel to Japan to find Cherry Blossom, in the spring the already stunning Brogdale Farm in Kent is brought to life with fields of blossom-filled orchards. It's the perfect setting for taking a romantic walk or settling down for a family picnic, and over Easter it even hosts the Hanami Festival, a Japanese celebration suitable for the whole family.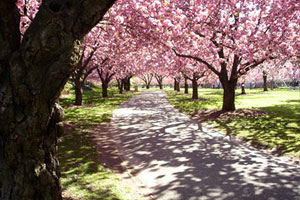 3.       Bluebells at Newton Wood
Almost 50% of the world's bluebells are found in the UK, and one of the most dramatic settings to see them is Newton Wood in North Yorkshire. Make a day of it by heading out for a walk, making sure to keep your eyes open for local wildlife - roe deer and woodpeckers are both local to the area.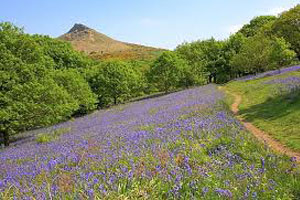 4.       Snowdrops at Anglesey Abbey, Cambridge
The arrival of the delicate white flowers known as snowdrops signify the beginning of spring, and they are a sight not to be missed. Anglesey Abbey has one of the best snowdrop assortments in the country, boasting over 300 varieties in its collection.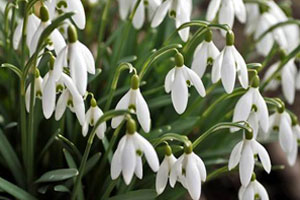 5.       Pasque flower at Cotswolds
Gloucestershire Pasque Flower Reserve sits within Barnsley Warren in the Cotswolds, and the best way to spot the beautifully unique pasque flower. One of the UK's most magnificent wild flowers, it blooms around Easter and can be easily spotted thanks to its large purple bloom.