Hello! The idea of Crumble & Core was born when three friends from East Sussex (Lucy, Lou & Jilly) came together over a lovely pot of tea.  We wanted to use Jilly's stunning artwork to create a 'watercolour world' of Greeting Cards and Stationery, which would celebrate both the everyday, and the special days.
We love nothing more than designing new images for Crumble & Core together.  Jilly never fails to work her magic turning those ideas into beautiful watercolour paintings. 
We are so proud to produce an ever-expanding range of quality British products using luxury paper stock. We currently offer Greeting Cards, Notecard Sets and Journals.
All our Greeting Cards are hand finished by us with embellishments, or if you prefer, they are available un-embellished.  Sometimes we use traditional wording on our cards, but we also like to use quirky, whimsical wording too, which alongside our images guarantees a smile every time! 
Our Colour Greeting Cards are set on textured paper with the look and feel of watercolour paper, which look fabulous offset against our ribbed craft envelopes.  We have over 400 cards in this collection covering occasions including Birthdays, Engagement, Weddings, Anniversary, New Baby, Christening, Naming, New Grandparent, New Home, Sporty, Alcohol, Milestone Ages, Mothers & Fathers Day, Children's, Relatives, Sympathy, Get Well, Good Luck, Bon Voyage, Leaving, Blanks, Thank You and Just to Say cards. 
We also have a smaller selection of Black & White cards set on luxury ivory paper offset with a gunmetal grey envelope, offering a slightly more contemporary feel.
When we created our range of Notecards we chose some of our best selling images and made sure that we created a set for everyone.  Perfect for Parents, Children, Teens, Gardening addicts, Flower lovers, Wildlife worshippers, Sport maniacs, Star gazers, Surf dudes and even Fairy enthusiasts!!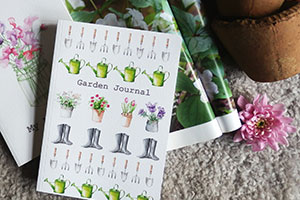 Our beautiful Journals have a textured and wipe-able cover with the look of watercolour paper and are lined inside.  The title for each goes perfectly with the images we have chosen for each cover.  Our Garden Journal with all things horticultural, our Travel Journal with a stack of vintage suitcases, our Baking Notes with a tea time feast, our Family Recipes with a cosy Aga and pets included, the Bridal Journal with the stunning brides dress and shoes, our Happy Thoughts with an explosion of stars, our Baby Journals with cute washing lines for a girl, boy or twins and lastly My Notebook with either a pretty jar of Sweet Peas or our very own juicy apple core logo. 
We started in early 2017 and we have gone from strength to strength as more and more shops are stocking Crumble & Core.   If you would like to know more, please get in touch via email, phone or through our website www.crumbleandcore.com
images