Tuesday, July 9, 2019 - 11:31
paragraphs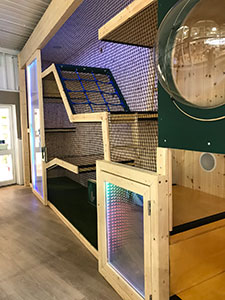 How much fun can you pack into an indoor play area just 7.5-metres long and 1 metre deep? Leaps and bounds of fun, if you're Playscheme!
We created the Leaping Platforms Play Centre at Nailsworth Garden Centre in Gloucestershire to include loads of smart interactive sensor features.
Light, sound and sight are key elements of this bespoke indoor playground, and we worked alongside Sound Leisure on features that help children aged two to 12 explore their senses through their imagination and creativity.