Wednesday, June 12, 2019 - 10:35
paragraphs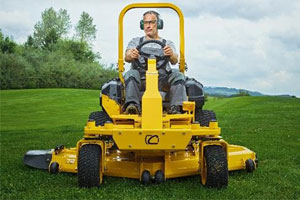 When you are looking to update your fleet of commercial mowers – the key things you'll be considering are performance, durability and operator comfort. Proven by landscape professionals the Cub Cadet's PRO Z Series of zero-turns will fulfill all your commercial requirements whilst providing a fast, premium quality cut.
The patented SyncroSteer technology with steering wheel means that inexperienced operators can easily use the  steering wheel and dual hydrostatic transmission to control all four wheels, minimising the turf being churned by the wheels as it would on a lap bar zero-turn and ensuring the ultimate manoeuvrability – an exclusive offering in the commercial sector which also reduces mowing time by up to 10% compared to lap bar mowers.
The ability to control all four wheels with a steering wheel and steerable front wheels which sets the PRO Z Series apart from all other zero-turns provides greater hillside stability up to 20° and enhanced traction on uneven terrain as well as mowing in straighter lines.