Wednesday, March 20, 2019 - 13:39
paragraphs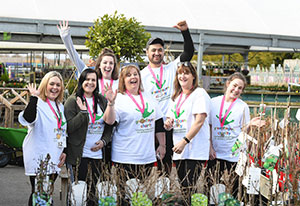 As the garden retail industry makes final preparations for the forthcoming Garden Re-Leaf Day (Friday 22nd March), the event organisers – the Greenfingers Charity – would like to take a moment to thank this year's amazingly generous sponsors.
The Garden Re-Leaf Sponsored Walk & Cycle Challenge will this year be supported by a range of leading brands, all of which come together to make the event such an enjoyable and exciting event.
Kickstarting the day will be team at World's End Garden Centres, who – as the walk and cycle start and end point – will be providing breakfast for all those taking part, as well as refreshments at the end of the challenges, helping weary souls refuel.
Once again this year, SBM Life Science will be sponsoring the medals. Given out to all participants at the finish line, these medals provide a memento from a fun-filled day, and help participants to celebrate their own personal physical achievement.  Whilst leading EPoS suppliers, CSY Retail, will be building brand awareness with sponsorship of the lanyards, provided to every walker.
Wednesday, March 6, 2019 - 12:57
paragraphs
In July 2011, Hillview Garden Store CEO and industry stalwart, Boyd Douglas-Davies announced the inaugural Garden Re-Leaf Day at the Garden Retail Awards in London.  Now in its eighth year, Garden Re-Leaf Day is the biggest charity fundraiser in the garden industry's calendar and has raised over £600,000, including over £70,000 in 2018 alone.
Positioned as the garden industry's answer to Comic Relief and Sports Relief, the aim of Garden Re-Leaf Day was to celebrate the start of the garden year with fundraising events to raise money for Greenfingers, a charity dedicated to improving the lives of children in hospices through the creation of magical gardens.
For the garden industry, the day creates valuable team building opportunities and brings more shoppers into garden centres earlier to extend the peak spring season. Garden centre managers, staff and other industry professionals tirelessly set up fun and exciting ways to not only raise money for Greenfingers, but also to promote gardening as an enjoyable pastime.