Thursday, February 28, 2019 - 10:24
paragraphs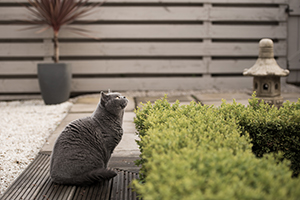 Green-fingered cat lovers can find out how to create the perfect feline-friendly garden to enjoy with their furry friend with Cats Protection's 2019 gardening tips.
The UK's largest charity has put together its top ideas for ensuring cats stay happy and safe outdoors, ahead of its attendance at the RHS Malvern Spring Festival from 9-12 May.
Cats Protection's Events Manager Emma Osborne said the ideas would help owners who want to encourage their cats to stay closer to home.
She said: "Creating a feline-friendly garden where your cat will want to play, rest and explore is an excellent way to ensure they don't wander far.
"It can be great fun coming up with ideas for new spaces for your cat to enjoy, which can also become an attractive feature in your garden. Whether it's piles of logs to provide a scratching area or large bushy shrubs for hiding and snoozing under, there are lots of cheap and easy ways to transform a garden into a feline paradise."