Wednesday, October 23, 2019 - 11:20
New garden centre Rosebourne in Berkshire is celebrating a fantastic first year of trading after turning over more than £6 million.
Celebrating its one-year anniversary, Rosebourne marked this impressive achievement by throwing a huge birthday party for the public on Sunday 6th October, 2019.
The event included a guest appearance from Strictly Come Dancing Judge, Craig Revel Horwood, who signed books for fans.
The first 100 customers also received a free orchid on arrival and all shoppers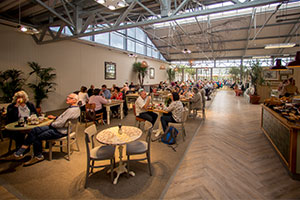 got 10% off their purchases. 
Executive Director Jon Kitching said: "We've enjoyed a very successful first year at Aldermaston, customers tell us how much they love our food offering and the fact we're a little different to the norm. Our garden furniture and plants are also proving popular.
"Looking to the future, a third site has been purchased in Hampton-in-Arden near Solihull and we have exciting plans to develop this into a fully operational Rosebourne with large food hall and restaurant this winter."
Opening of Rosebourne garden centre in Berkshire promises to attract crowds
October 2018
Just like its popular sister branch in Weyhill, Hampshire, the second Rosebourne opening in Aldermaston on October 6, 2018 will showcase quality, fresh, locally sourced produce in its restaurant and food hall, alongside a wonderful wide range of beautiful plants, garden essentials, homewares and gifts.
Rosebourne Aldermaston will give visitors a relaxed and pleasurable shopping experience in a light, airy and upmarket setting. Offering great quality for great value, visitors will be spoilt for choice in a unique environment that combines the freshness of a garden centre along with the charm of a farm shop and uplifting appeal of a buzzing restaurant.
The arrival of a second store is down to the runaway success of the first Rosebourne in Andover, which opened its doors almost two years ago. That flourishing first store, which was inspired by the popularity of David Brown and Jon Kitching's Beckworth Emporium in Northamptonshire, is testament to a business formula that customers love.
A highly experienced team of directors will lead the new Rosebourne in Aldermaston. Industry veterans Neville Prest and Val Kempster from Garden & Leisure Group will take the reins alongside Jon Kitching and Salim Sajid from Blooms of Bressingham and non- executive director David Brown. They will be supported by chairman Charles Good and financial director Hugh Jackson.
The Restaurant
Aiming to offer a relaxed dining destination, visitors will be able to unwind with a light bite, hearty feast or sweet treat in the bright and airy new restaurant with room for 180 diners.
Created by head chef James Lee, seasonally-changing menus, as well as daily specials will offer plenty of choice no matter what the time of day.
The chefs will work alongside the team from the in-store butchers Cook & Butcher, the Food Hall team and local suppliers to source fresh, top quality ingredients.
Dishes will be designed with quality and provenance in mind, allowing the very finest in quality ingredients to speak for themselves.
Shoppers will be able to choose from tasty breakfasts, delicious lunches and mouth- watering afternoon teas.
A selection of tempting cakes will be baked daily using high-grade flour and locally sourced free-range eggs. To wash it down, Mozzo Coffee, roasted in small batches in Southampton, will be freshly prepared using traditional barista machines.
The Food Hall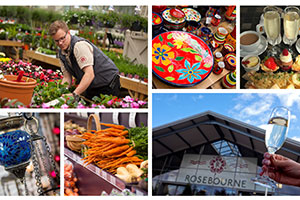 Stocking up on some of the finest fresh produce from the region, including local soft fruit producers such as Q Gardens from Abingdon, will be easier than ever with plenty of mouth-watering food and drink from hand-picked local businesses.
Rosebourne's team has searched extensively to source the best producers and has carefully chosen the finest products made with passion and dedication that they know customers will return for time and time again.
The choicest cuts of meat will come from newly-appointed in-house butcher, Cook & Butcher. Visitors will be able to take their pick from freshly prepared meats and a selection of sausages and burgers made by hand on the premises, to homemade recipes (including a range of gluten free items). And for those looking for inspiration, the friendly and experienced team will be able to dish out plenty of ideas for roasting, stewing, barbecues, stir fries and special dinners.
Rosebourne Deli will stock carefully selected cheeses from around the world as well as from some terrific local producers. It will offer a selection of meats, pies, pastries and treats too, many of which will be made by Rosebourne's team of chefs each day.
Free-range eggs will be brought in from the local, Berkshire-based, Beechwood Farmthat prides itself on nurturing healthy chickens that have an excellent quality of life. The eggs are collected daily, graded and packed on the same day, meaning when they are bought by the customer, they are fresher, healthier and more delicious than any typical supermarket egg.
One of the leading independent bakers in Berkshire, Warings Bakery, will bring irresistible handmade bread, buns and cakes. An award-winning, family business, the original recipes have been handed down through four generations of bakers, providing the local community with an unrivalled variety of baked goods.
Another local, family-run business, Tutts Clump Cider ensures all produce is made from 100% fruit juice. Set up in 2006, the company has expanded quickly, using sustainable approaches and winning many local business awards.
The team is also very excited to be stocking EK Bees, an award-winning locally produced honey from south Newbury.
Discussions are continuing to source the very best local suppliers to stock shelves with quality regional produce. It's hoped Rosebourne Aldermaston will soon welcomeIndigo Bakes, an award-winning micro-bakery based in Chineham, Basingstoke, that produces Artisan breads and pastries.
Ongoing talks with brilliant breweries include West Berkshire Brewery with their well- balanced and flavourful beers, Bingham Beers which brew on a 10-barrel plant to produce quality cask ales and The Two Cocks Farm and Brewery which boasts nine awards for their eight beers.
Gifts and crafts
The new store will be the ideal place for visitors to pop in to find that perfect present and browse to their heart's content. Whether they're on the hunt for a gorgeous gift for friends or family, or a treat for themselves, visitors won't be short on inspiration. Beautifully rustic wooden shelves will be filled with scented candles, candle holders, wind chimes, contemporary sculptures, coloured glass, pottery, perfumed oil lamps, handbags, throws, cushions, artificial flowers, wall art and much more.
From October right up to Christmas, displays will have the festive wow-factor. Hundreds of stunning decorations will be artfully arranged into colour themes to give countless ideas on how best to decorate the home.
A comprehensive collection of artificial Christmas trees will have eyes all aglow with a selection of tree lights already attached. There'll also be a large range of indoor and outdoor lights and twig trees suitable for any home alongside a great range of Christmas tableware, cards and crackers to complete the fabulous festive look.
Kitchen Shop
Getting one of the most important rooms in the home fully and beautifully stocked will become a piece of cake in the light and airy new kitchen shop.
There will be plenty of unique culinary gifts too with decorative pieces, ornamental plates, glassware and mugs in a variety of styles and designs.
Shoppers will find a great selection of reputable brands on offer, from cutlery to tableware, glasses, appliances, utensils and decorative products.
Portmeirion, Emma Bridgewater, Creative Tops and Wrendale are just a few of the popular brands of tableware that will be on display.
As well as the big-name brands, the Kitchen Shop will feature several different designs from Spanish tapas dishes to oriental-style bowls or classic traditional British dinnerware.
And with preparation key to kitchen success, knives, tools and accessories will be carefully selected for innovative design, assured quality and durability.
A wide range of utensils and gadgets will cater for just about everything; whisks, tongs, serving spoons, cooking timers, tin openers and vegetable peelers to name just a few.
Horticulture
For visitors looking to get the most out of their gardens, Rosebourne in Aldermaston will become THE place to go. Gardening fans will be able to peruse the Garden Nursery, which will be stocked with a vast range of plants. A hard-working, experienced team will also be available every day to answer any gardening queries.
The Glasshouse will boast a huge selection of seasonal bedding plants all grown within the UK and where possible from local growers. The range will cater for all seasons from Pansy and Viola in the depths of winter to Geraniums and Fuchsia for a stunning summer show. There'll be plenty of traditional bedding varieties as well as great value seasonal promotions to create instant colour for exceptional value.
Grow Your Own will be packed with herbs and vegetables to provide inspiration and easy options to create an allotment at home. All the traditional favourites will be fully stocked including tomatoes, cucumber, beans and peas as well as an extensive herb range with more than 25 different varieties.
The outside plant area will offer a broad range of trees, shrubs and herbaceous plants. Some of the UK's leading growers will be in stock including Frank P Matthews, Hillier Nurseries and David Austin Roses.
For visitors who know exactly what they're after, they'll be able find their perfect plant in the extensive A-Z range of climbing plants, roses and shrubs plus specimen plants to create that instant impact in any garden.
There'll be a wide range of gardening tools, equipment and accessories as well as all the essential feeds, composts and bug killers to help gardens flourish. Rosebourne prides itself on offering competitive pricing and will offer all the leading brands.
Rosebourne's selection of unique ornaments will make it easy to transform gardens into the envy of the neighbourhood. A huge amount of care has gone in to sourcing unusual items from the furthest corners of the earth to add that perfect finishing touch to the garden.
From white statues and figurines to bronze garden ornaments and even animals crafted from old tin barrels in Australia, visitors will discover a touch of the extraordinary.
A unique range of containers and planters will be available in a variety of shapes and sizes suitable for growing all manner of plants. Gardeners will be able to opt for traditional terracotta, glazed, wicker, plastic or metal.
Rosebourne's extensive range of hanging baskets and troughs will come in all shapes and sizes – ideal for dressing any home and patio. Made from long lasting iron or rattan, these purchases will last a lifetime.
The seasonal garden furniture range will be extensive with a collection of wooden, steel mesh aluminium, powder coated steel and rattan table sets, benches, swing seats and loungers.
Sunny days will be covered too with a range of picnicware, picnic hampers, seat and bench cushions and a selection of parasols, cantilever parasols and gazebos. There'll also be a great collection of gas and charcoal barbecues, plus a wide range of accessories.
Opening Hours
Store and Food Hall: From 8.30am to 5.30pm Monday to Saturday. Sunday: 10.30am to 4.30pm
Restaurant: From 8.30am to 5pm Monday to Saturday. Sunday: 9am to 4.30pm Breakfast: From 8.30am to 11am, Monday to Saturday. Sunday: 9am to 11amLunch: From 11.30am to 4pm, Monday to Sunday
Afternoon tea: From 2pm to 4.30pm, Monday to Saturday. Sunday: 2pm to 4pm
Bank Holidays: Open, excluding Christmas Day, Boxing Day and Easter Sunday Prices: Breakfast from £1.75 | Lunch from £4.95 | Afternoon tea from £13 Menus: Available to view on website
The Need-to-Knows
Address: Rosebourne, Basingstoke Road, Aldermaston, Reading, RG7 4LD Website: www.rosebourne.co.uk
Email/ Tel: info.aldermaston@rosebourne.co.uk | 01189 712123
Launch Date: Saturday 6th October, 2018