Garden centre Perrywood sponsored a £750 prize to find the healthiest packed lunch in Essex. The Healthy Packed Lunch Plot Competition was open to all primary and special schools in Essex. It encouraged pupils to design a kitchen garden plot and create a recipe for a healthy packed lunch using its produce.
The competition, part of the Growing Communities project, was sponsored by Perrywood, Kings Seeds, Augustine Courtauld Trust and Royal Horticultural Society. The Growing Communities project is managed by the Rural Community Council of Essex (RCCE) and encourages young people to eat healthily, understand and learn about food provenance whilst capturing their imaginations. It helps assist with creating links between generations, enabling shared knowledge and promotes working with communities.   
To enter the competition, pupils designed a kitchen garden plot which could be easily grown at school or at home. They then imagined what a delicious healthy packed lunch could look like if it was made using the produce from the plot plus some additional ingredients such as pasta, couscous and rice. 
With mouth-watering entries coming in from across the county, the judges (Nicholas Charrington, RCCE Chairman, Hannah Powell, Perrywood Garden Centre and Andrew Tokely, Kings Seeds) had the difficult task of selecting the overall winner. 
From sweet fruity creations to scrummy savoury dishes, all the entries showcased the children's green-fingered aspirations and culinary creativity. Judges were particularly looking for an easy to prepare lunchbox dish which was healthy and included a variety of different produce.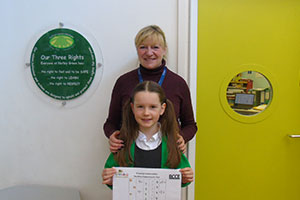 After a tough judging process, eight-year-old Rebecca Warder from Notley Green Primary School in Braintree was crowned winner for the primary school category, receiving £750 worth of plants & gardening equipment from Perrywood for her school. Rebecca's winning design will be re-created in a garden at the school with RCCE and Hannah Powell from Perrywood Garden Centre. 
The other winners and runners up (who won prizes of £200 towards school plants & gardening equipment) were: 
• Owen Vilday, 14, from Cedar Hall School in Benfleet (winner, special school category)
• Flynn Gibaud, 5, from Wentworth Primary School in Maldon (runner up)
• Finlay Addison, 8, from Down Hall Primary School in Rayleigh (runner up)
• Suzzie Appiah, 12, from Harlow Fields School in Harlow (runner up, special school category)
Nicholas Charrington, RCCE Chairman comments: "On behalf of the RCCE I was delighted to be part of the judges panel this year.  The competition is a fun innovative way of encouraging children to think about what they eat and try new healthier options.  I was most impressed with the level of commitment and inspirational work the children created, which proved very hard when deciding the winners. The very best entrants demonstrated a clear understanding of the brief, as well as a willingness to let their imagination run wild.  All the judges left feeling hungry - inspired by the recipes and descriptions of the packed lunches.  Well done to all the entrants!"
Hannah Powell, Communications and HR Manager at Perrywood comments: "Gardening is proven to be good for you in many ways – from providing fresh air & exercise through to connecting with nature & taking a break from our busy connected world. At Perrywood we love introducing children to growing and tasting their own food, and who knows we might even inspire some budding gardeners along the way. We'd love every school in Essex to be able to grow and taste fruit and vegetables, and this competition will kick start this activity in the winning schools."
She continues: "Selecting the winners was a difficult decision, however we hope that every pupil who submitted entries is inspired to get outside and get creative in the garden and the kitchen – at home or at school." 
Fellow seasoned judge from Kings Seeds Horticultural Director Andrew Tokely commented: "The competition this year as usual was very challenging. The general standard was very high and choosing the eventual winners took much discussion and deliberation. 
"The Cedar Hall plot, was well thought out and achievable to plant and grow and the recipe was also capable to cook and prepare. 
"The Notley Green plot, was well thought out and a good use of space.  It was nice to see edible flowers incorporated into the dish. Cooking and preparation instructions were clear and well laid out."
Garden Centre of Excellence Perrywood Garden Centre & Nurseries Ltd is an independent, family-owned garden centre, coffee shop and plant nursery. They work hard to produce and source quality plants for the home and garden and employ more than 160 people from the local area.  They are dedicated to raising funds for local charities and recently presented a cheque for £14,000 to their three chosen charities Mid & North Essex Mind, Marie Curie and Greenfingers.
Perry Wood is next to the site and lent its name to the business back in the 50s when Alan Bourne's parents, Mary and Les, bought the land and called it Perrywood Nurseries. They started out growing potatoes and pick-your-own strawberries. After working for Colchester parks department, and seeing the supermarkets begin to take over the strawberry market, son Alan Bourne started to grow plants to sell from the front of the property and took over the business with his wife Karin in 1984. Over the next 30 years they gradually grew the site into an award-winning garden centre which now attracts customers from all over Essex and further afield. 
For further information see www.essexrcc.org.uk www.kingsseeds.com www.rhs.org.uk
images