Tuesday, October 23, 2018 - 14:14
Autumn is upon us! The evenings are gradually drawing in and winter is definitely fast approaching. In many respects, autumn is one of the gardeners most important seasons as they start planning ahead for the longer nights, colder wetter and the winter frosts that begin to bite the ground.
As with most things in life, it's better to get ahead of the game and start as early as possible – the same applies to your garden. It's important to give yourself plenty of time to get your garden prepared and ready come next spring. Jeyes, the outdoor cleaning specialist, has put together some useful tips for getting your garden ready for a change in the seasons.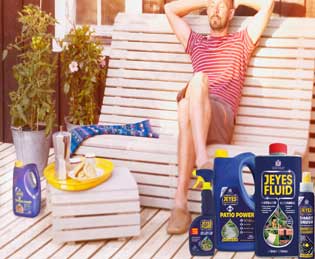 Spring cleaning your greenhouse
For many gardeners, the greenhouse is an essential part of their garden, sheltering those fragile and exotic plants from the occasionally harsh British weather and accelerating the growth of others. It's important to give your greenhouse a bit more care at least a few times a year and autumn is the perfect time to do so as you're not doing so in the sweltering heat of summer or the bitter cold of winter.
Ensuring a good clean of your greenhouse will also mean that no pests or diseases are able to build up over the winter. You will also be getting rid of the dirt or grime on your windows that could potentially block the sun from hitting the plants. Jeyes Fluid Outdoor Cleaner & Disinfectant is a hygienic method that can be used to kill 99.9% of germs and will help ensure your greenhouse will be sparkly clean and ready for the winter.
Lawn care
Looking after your lawn can still be done during autumn as you'll want to make sure that it stays in pristine condition over the months leading up to spring. The lower temperatures and wetter conditions can have a damaging effecting on your lawn, so be sure to tend to it before winter arrives. Raking and clearing leaves off the lawn will mean that the grass is not blocked from sunlight and brown, dry patches will not appear.
When it comes to mowing your lawn, be sure not to cut it any shorter than around five centimetres, as the shorter it is, the more difficult it will be for the grass to reach sunlight and grow properly in the much darker winter.
Clear up your patio
Making sure your decking has a little spruce every now and then really does help, particularly in autumn. Leaves and other organic debris can build up on the ground and over time, can inflict damage to the patio itself. If the debris is left long enough, it will begin to mulch and settle into the grooves and cracks of the patio and eventually it will lead to mould and algae building up.
Simply sweeping your patio once a week will reduce the risk of this damage occurring and will allow it to remain healthy and functional. Jeyes 4 in 1 Patio Power Cleaner can be used to help with this clean up. With no scrubbing needed and the product being power washer compatible, it has never been easier to keep your patio clean, and having killed 99.9% of germs the results of the clean will last a lot longer.
Garden equipment
Autumn is the perfect time to give your garden equipment a little bit of TLC before you store them away. If things need to be replaced, you can strike while the iron is hot and look at replacements before the next spring. Jeyes Fluid Multi-Purpose Disinfectant can be used to hygienically clean gardening tools. It is simple and easy to use thanks to the trigger spray and the perfect helper this autumn! Jeyes Fluid Outdoor Cleaner & Disinfectant is another great product that will also ensure that your garden pots and tools are properly and hygienically cleaned.
Autumn is a crucial time in the year for both lawn and garden care and your garden will definitely feel the benefits of a little dedication in this slightly colder season come spring!
For more information on the full range of Jeyes' cleaning products, visit www.jeyesfluid.co.uk