Friday, February 23, 2018 - 12:45
Mike Nicholson, managing director of Gripsure decking, discusses the firm's products and the latest trends with Garden Trade Specialist Magazine...
What makes Gripsure decking different from other decking?
Gripsure is the UK's leading non-slip decking company. Our aim is to create the highest-quality timber decking that is both stylish and safe.
Gripsure decking has the highest possible anti-slip performance rating under BS7976. That means it stays safe, even in wet or icy weather. We are passionate about using the highest quality timber and have a revolutionary ten-year performance warranty. 
Where is Gripsure decking used?
We make a range of timber decking for homeowners and commercial use – from our original Gripsure Pro, which is ideal for commercial projects, to our non-slip decking tiles, which are quick and easy to fit in small gardens or on balconies or roof terraces. 
We have some well-known customers, including the National Trust, Eden Project, Alton Towers and the Holiday Inn. However, our decking is now available through Homebase and Bunnings UK stores so it's becoming increasingly popular for use in back gardens. We also sell through a growing network of timber merchants, including Jewson and Travis Perkins, and builders often choose our anti slip decking for private and commercial jobs. We recently launched an online shop, so anyone can now buy decking direct from Gripsure.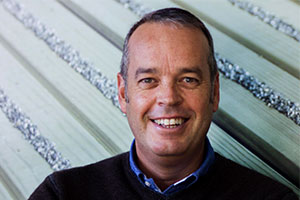 Decking became very popular in the 90s but has been criticised for not being environmentally friendly or hard-wearing. How has the industry responded?
Timber is timelessly beautiful and will never go out of style, so I am confident that decking is here to stay. However, manufacturers have had to look at the shortcomings of the traditional timber deck and adapt to market demands for safety, performance and quality.  
We are all now aware of the importance of using sustainable materials. Most reputable decking companies, including Gripsure, use FSC or PEFC certified timber, from sustainable forests. 
Gripsure decking has a hardwood option which lasts more than 50 years
Timber treatments have come a long way since the early days. The Timber Decking and Classing Association now has a DeckMark Quality Scheme for decking that comes with a performance warranty of between 15 to 25 years. Some of our customers opt for a hardwood, rather than softwood, decking as these last for more than 50 years. 
Decking also has a reputation for being dangerous because it gets notoriously slippery when it is wet or when algae builds up. It's a real problem. Gripsure's range of non-slip timber decking directly responds to this issue. I'm pleased to say that more and more people are now experiencing the benefits of choosing anti-slip decking.