Monday, April 30, 2018 - 10:47
New to the UK gardening market for 2018, the Luminus gardening glove from Japanese brand Towa has made the final of the prestigious RHS Chelsea Garden Product of the Year 2018.
Available in three attractive floral designs - Rose, Olive and Herb - the Luminus glove combines aesthetic appeal, comfort and hand protection while retaining the performance and sensitivity of touch required for delicate gardening tasks. The palm is coated using Towa's patented MicroFinish technology which gives up to 100% more grip than standard gloves and brings the added benefit of requiring less effort for handling tasks than standard grip gloves, something that older gardeners in particular may find beneficial.
Towa gloves are available exclusively in the UK and Ireland from Rodo Ltd. Gary Bent, Marketing Manager at Rodo, commented, "There's no other glove quite like Luminus in the gardening market. Feedback from users tells us that they love not just the designs, but also how comfortable they feel to wear and work with. And the RRP of just £7.99 makes them very accessible to occasional and serious gardeners alike."
Trade enquiries from current and new customers are welcome on 0161 371 6400 or sales@rodo.co.uk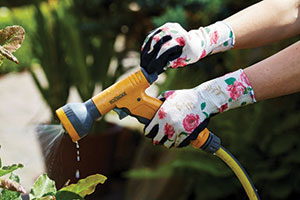 www.rodo.co.uk
About MicroFinish®
Towa's MicroFinish® technology, found throughout their entire gardening range, takes a completely different approach to gripping a surface than standard gloves. Instead of using simple friction to grip, the MicroFinish process creates thousands of tiny pores on the surface that form vacuums with the surface being gripped, which combined together act like miniature suction cups, giving a much better grip. And whereas in wet or damp conditions standard gloves lose grip, there's no loss of grip with MicroFinish: again, just like suction cups, the water forms a seal around the vacuum.
About Towa
Established in 1947, Towa's reputation has been built on technical innovation, product performance and manufacturing excellence. Distributed today in over 30 counties across the world, Towa gloves are used in a wide range of industries and applications including construction, automotive, manufacturing, assembly, fishing, farming, general handling and gardening.
About Rodo Ltd
Towa's exclusive UK and Ireland distributor, Rodo Ltd was established in 1926 and has established itself as one of those countries' leading suppliers of personal protective equipment.  The company operates from two sites in Greater Manchester, occupying over 100,000 square feet of warehousing space and with more than 130 employees, with full national on-the ground coverage through a network of sales representatives.