3 Piece Outdoor Gabion Dining Set from Kintech Ltd
Wednesday, August 19, 2020 - 14:55
Kintech Ltd is a UK based metal manufacturing and fabrication engineering company, and has recently launched a brand new on-trend product for outdoor dining and leisure. The 3 Piece Outdoor Gabion Dining Set will completely transform any outdoor living space, offering an outdoor seating area for homeowners to enjoy leisure time in style. The Gabion is an eye-catching, sturdy alternative to outdated wooden picnic tables, and offers a much more pleasing and modern aesthetic. The Gabion is made up of galvanised steel baskets and Tanatone European Whitewood bench and table tops for a quality, long lasting finish.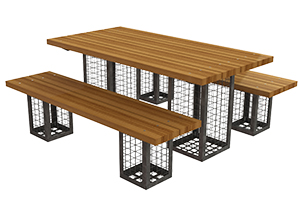 The galvanised steel baskets are extremely robust, and have capacity to be filled with decorative stones, logs or rocks to compliment the natural surroundings of gardens or match the exterior décor - this gives customers an opportunity to customise the product and make it unique to their home and garden. For extra stability, the steel baskets can be secured to the ground, meaning they can't be easily knocked over and damaged.
The Gabion is individually made to order with no minimum order quantity; meaning that garden centres and retailers can add this fantastic new product to their existing offering without committing to holding large amounts of stock. Delivery includes 8 large boards, 2 table pillars, 4 bench pillars, 6 angle brackets, 32 nuts, bolts and washer. Product requires assembly, minimum 2 persons. Lead times are 3-4 working weeks.
To find out more please contact sales@kintechltd.co.uk or call 01482 820 333.