Friday, February 21, 2020 - 12:34
Are your Summer days ruined by those pesky mosquitoes and midges?  Enjoy the outdoors and your garden midge free thanks to Thermacell's Halo Mini. 
Standing at only 16cm tall, the Halo Mini sits discreetly on your garden table, on a wall or anywhere near where you are based.  It will silently create a dome of protection measuring approximately 20m².  Anyone inside the protected area will be safe from midges and mosquitoes, even your pets are protected! 
One major benefit of the Thermacell units is that nothing is in direct contact with your skin, so no messy sprays or oily lotions – perfect for the kids or anybody with sensitive skin types.  With no noise and no scent whatsoever, allowing you and your friends to kick back, relax and focus on more important things – like which playlist you should choose for your party or which nibbles to go next. 
So how does it work? 
Each unit protects you and everyone around you.  Our technology uses a butane cartridge to generate heat to disperse a allethrin into the air creating a zone of protection from those pesky mosquitoes, midges and other small flying insects.  Just three steps to total freedom in the outdoors! 
1.    Inset the repellent mat
2.    Insert a butane cartridge
3.    Turn it on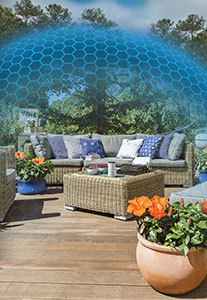 Each fuel cartridge should last around 12 hours and each protective mat should last for around 4 hours.  Once the mat turns white, you know its time to refill.   
The Halo Mini is just one unit in the Thermacell range, each unit is designed for specific uses whether this is in the garden, camping or other outdoor activities such as fishing.  
The Backpacker is the most compact unit making it ideal for adventure.  This unit is powered by a camping canister (not included).  This lightweight unit weighs only 4oz and is less than 10cm tall. 
The MR300 unit is our most popular model, lightweight and portable and can be kept in your pocket whilst out and about. This particular model would be great for gardeners who may be changing positions in the area or people who are fishing! 
There are also two lanterns in the range, the Bristol and the Scout lantern.  One provides soft ambient lighting (Bristol) whilst the Scout will give you bright light when needed with four light settings.  The Scout can also be used as a light stand alone or as a light and protection device at the same time. 

Order now through Burton McCall Ltd, E: sales@burton-mccall.com or call 0116 234 4611.