Thursday, March 5, 2020 - 10:29
Thorndown is delighted to introduce the new Somerset Heritage Colour Collection, celebrating the beautiful tones and colours of the countryside. These 18 new colours provide an additional palette to compliment the 48 colours in the Wood Paint range, and are made with the same leading eco water-based technology that makes Thorndown's Wood Paint so high-performingly brilliant.
 
As the county of Somerset abounds with nature, this collection of eighteen new wood paint colours is rustling with the browns and greens of hill and field, and brimming with the deep reflective blues of the water running through.
 
Colours and names are inspired by the countryside and flora and fauna within. Muted stone colours sit with Cow Parsley White, an off-white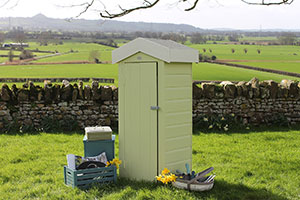 like bone china, Meadowsweet cream, a deep rich sweet cream, soft rounded browns and a natural translucent green wood. The collection is completed with three classically elegant blues and seven greens that take you on a journey through the wetlands of Somerset.
 
Avalon Blue is as deeply mystical as the name suggests with a classic heritage tone that sits rooted in centuries past. The brotherly blue tones of Brue Blue and Launcherley Blue are brimming with reflective blue undertones that shimmer from teal to a moody smoky blue.
 
Rhyne Green is a pretty, fresh yellow-green rising up from the banks of dykes to greet Grey Heron sitting in the fresh and uplifting green of Wetlands Green. Tor Stone, Goddess Green and Old Sage Green pay tribute to the heritage of Glastonbury where the paint factory sits, bringing traditionally beautiful heritage tones to the collection.
 
Explore the wilds of Somerset with Thorndown Wood Paints and discover new colours that you'll want throughout your home and garden.