Monday, February 24, 2020 - 10:46
Started by sisters Vanessa and Justine in early 2019, Poddy & Black is the modern woman's answer to stylish garden footwear.  After years spent in the fashion industry and frustrated by the lack of choice, these 2 decided it was time to start a brand that gives confident creative women the opportunity to express themselves and have some fun  - even when its muddy or raining!
The young business currently offers 3 styles with cheeky names ( the Clever Clog, the Bossy Boot, and the iconic Half Cut) with new styles and colours coming for 2020. Made of natural rubber and lined with recycled cotton, delivered to the customer in fully recycled packaging the footwear is also kinder to the environment than many other products in this category.
"We launched our brand at various gardening and flower shows in  summer 2019 and people are always amazed by how comfortable the boots are when they try them on" says Justine, adding that customers often walk off the stand with some flowers attached to the unique Poddy accessory which allows you to customise your boots according to your mood and the season. "You will find us  at RHS Chatsworth, Tatton and Hampton Court this year plus Malvern and Shrewsbury Flower shows if you want to come and check us out" she adds. Reaching the customer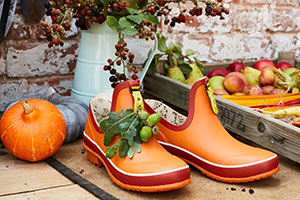 doing one of  their favourite activities where they can enjoy the gorgeous gardens and then treat themselves to plants and other gardening products is important brand building for the early stages of the business. 
The unique thing about the Poddy & Black collection is the style, colour and quality and there really is nothing else like it on the market now. Often bought as gifts the packaging is also seen as an asset and forms part of the display at those live events. At a time when customers are turning away from the traditional high street and instead want to enjoy the health benefits of spending time outdoors it feels like the right time to be expanding for the brand. Vanessa concludes; "we know we sell our products to all sorts of women, not just gardeners.  And whether they are walking the dog or feeding the chickens or just popping out to run a quick errand we have heard time and again that our boots have become an essential everyday product in their busy lives". 
Anyone wishing to talk about wholesale opportunity should email: Vanessa@poddyandblack.com.