Thursday, March 5, 2020 - 13:21
Kali Stileman Publishing was established in 2002 by Kali Stileman,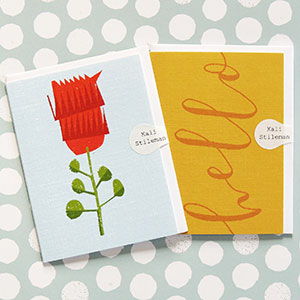 the owner and designer, who has previous experience in ceramics and teaching. The business focuses on design led luxury greetings cards, gift wrap and homeware for children and the young at heart, and has gone from strength to strength since its small beginnings. 
Kali Stileman Publishing stands out with its joyful and unique designs, which are printed on luxury thick board. Their tiddly widdly range, a vast selection of mini cards, has had huge success. Their latest designs include the wordy tiddly widdlies, which feature calligraphy by the talented Kate Brockie, with words such as 'salut', 'ti amo' and 'yippee', which go alongside the wordy cushion collection. Another new design is the tiddly widdly hashtag range, which incorporates a bold hashtag symbol with a punchy message, such as 'whoops', 'hurrah' and 'treat yourself'. Both collections are printed in muted bright colours, and are versatile whatever the age or gender of the recipient. 
Kali Stileman Publishing also specialises in gift wrap, printed on luxury thick paper. Their wrap selection covers all bases, from a mustard yellow ditsy floral wrap with contrasting band, to a fun multi coloured alphabet wrap, to an intergalactic space wrap.           
Kali now has a team of five working alongside her in a studio nestled in the heart of Puddletown forest where they spend the day surrounded by ducks, geese, turkeys, chickens, dogs, and a trio of pigs headed up by 'Big Nige' who was given to Kali at a day old after he was handed in to the local dog warden!