Monday, November 25, 2019 - 12:48
A NEW range of mains powered centrally heated dog beds featuring a pressure activated heat pad - Hot Dog Pet Products is a family owned business located in the beautiful market town of Northallerton, North Yorkshire. Our entire range of thermal and central heated dog beds are all crafted by our dedicated and skilled workforce. Made in Britain our unique, luxurious dog beds are all designed, produced, packaged and posted from right here in Yorkshire. 

How It Works
The centrally heated dog beds feature a pressure activated heat pad, so when your dog lays on the bed the temperature will rise to the one set by you on the controller. When your pet leaves the bed, the temperature will return to an ambient level. There are 7 heat settings ranging from 25°c to 55°c. All bed and cushions can be machine washed and our waxed range of beds can be wiped clean. The removable heat pad comes with a washable cover and the pad itself can be wiped cleaned with a damp cloth.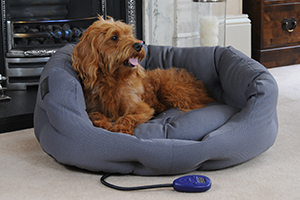 Hot Dog's stately range features a collection of classic cushion beds available in four sizes from Small (24"), Medium (30"), Large (35") and Extra Large (40").  For dogs who prefer a traditional pillow bed, this is available in two sizes; Large (71') or Extra Large (87").
Features
• Mains power, low voltage for safety
• Armoured cabling to prevent biting and chewing
• Thermostatic protector
• 7 heat settings with LED indicator
• Pressure activated
• Thermal and recycled fibre filling
• Machine washable cover (excl. waxed range)
• CE Approved
• RoHS compliant
Why Choose Heat?
Just like us, animals can also suffer from conditions such as arthritis, hip dysplasia, recovery from surgery or injury, joint and circulatory problems or just the effects old age. It has been proven that by applying heat this is a fast and effective method to alleviate the symptoms of these conditions or speed up recovery after injury or surgery. The application of heat is used to reduce stiffness and muscle spasms, increase blood flow and relieve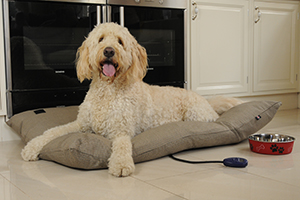 pain. With the Hot Dog centrally heated dog beds delivering constant temperature-controlled, their heated beds are also ideal for elderly and infirm dogs.
At Hot Dog, ethically sourced, sustainable and highly durable materials are used throughout the entire manufacturing process. The polyester fibre filling used across our range of products is 100% recycled, fire retardant and complies to the British furniture and furnishings fire and safety regulations 1988. BS.No.5852, Ignition Source 2. With all of our packaging meeting the highest possible recycling standards, our packaging is made from 100% recyclable or biodegradable materials. 
Contact & Ordering Information
• Minimum trade order £400
• Phone 01609 751603 
• E-mail info@hotdogpetproducts.com  
• Website www.hotdogpetproducts.com

Finalist for PetQuip Product of the Year 2019

Member of Pet Industry Federation