Tuesday, December 10, 2019 - 09:49
Chemicals manufacturer James Briggs Ltd (JBL) has launched its first consumer-facing cleaning range for the Garden, as it looks to expand its offering to retailers.
 
The Nilco Garden products, are part of the recently-launched Nilco Home range and have been created specifically for domestic outside spaces - stone and decking patios and garden furniture.
 
The four-strong collection includes a fabric protector which blocks stains and repels liquids; a cleaner for wood, metal and rattan furniture; a decking cleaner for sealed wooden floors and decking; and a patio and stone cleaner. It is now available to consumers from retailers including B&Q and priced around £4 to £6 per item.
 
Originally designed for professional use, Nilco is JBL's in-house cleaning solution brand, encompassing products for those in the catering, washroom and housekeeping trades.
 
Jim Miller, Commercial Director at James Briggs Ltd, said: "Nilco has proved to be a very successful brand for us and recognised for its high performance, reliability and affordability. Home cleaning products are ever more popular and creating a garden range is a natural move for us, especially as more and more people see their garden as an outside room and spend a great deal of money on making it comfortable, despite our climate.
 
"In trials, the Nilco Garden products performed exceptionally well and we believe are  a match for any industry standard competitor and at a very competitive price."
 
 Founded in Manchester in 1830 at the height of the industrial revolution, JBL has built a reputation as a service-led, industrial aerosol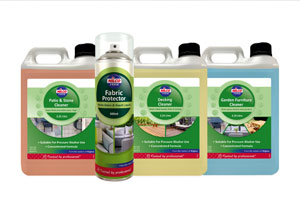 manufacturer, specialising in the supply of paints and lubricants for retail, consumer and trade markets. 
 
Based across two sites – Royton and Chadderton in Oldham – the company has capacity to make 150 million aerosols and 30 million litres of high performance product every year.
 
It is the major producer of WD40 and recently launched a first-to-market anti-corrosion aerosol primer utilising wonder material, Graphene.
If successful, there are plans to expand the Nilco Home range further over the next 12 months, including a concentrated floor cleaner.
 
Jim added: "We've already had strong interest from retailers and we're confident that consumers will notice the difference in quality and effectiveness.  We're excited to develop the collection further and we also have other products close to hitting the market in a range of sectors."
 
For further information about James Briggs Ltd and their cleaning range for the garden, visit: www.jamesbriggs.co.uk.