Monday, December 9, 2019 - 12:48
Contemporary gift and homeware retailer, Enesco, is proud to present its second exclusive Mug of the Year, a new concept within the licensed Beatrix Potter Collection.
Having launched in 2019 with none other than Peter Rabbit™ himself, the idea behind this offering is that on an annual basis, the featured character will change to showcase an original piece of artwork taken from author Beatrix Potter's much-loved classic children's tales, making the Mug of the Year a highly sought-after and super collectable piece with your customers.
The Mug of the Year for 2020 features the ever-popular character, Jemima Puddle-Duck™. The bone china mug is rimmed with gold, with the same special feature highlighted
throughout other elements of the design on the flowers surrounding Jemima.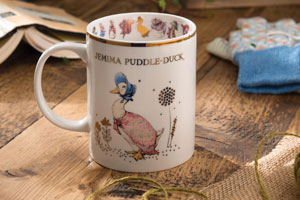 On the inside rim of the mug are all the different characters from the Peter Rabbit collection. In this circle of literary characters, Jemima Puddle-Duck is presented in gold, and as more
characters star on each Mug of the Year, their depictions on the inside of the mug will also change to gold, denoting that they have already featured on a previous edition.
In this new collectable initiative, the mug measures 9.5cm, and is presented in a full-colour box with gold accents, and retails with an SRP of £15.00. The Mug of the Year along with other
licensed Beatrix Potter gifts, homeware items and plushes are available to order from www.enesco.co.uk
About Peter Rabbit™ and Beatrix Potter
The Tale of Peter Rabbit is one of the world's bestloved children's books and was created by author and illustrator, Beatrix Potter in 1902. The story has never been out of print since it was first published by Frederick Warne & Co. (today an imprint of Penguin Random House) and has sold in excess of 45 million copies globally. Beatrix Potter personally oversaw the launch of subsequent products, making Peter Rabbit the oldest licensed character in history. Today over 2 million of her 'little books' are sold globally every year, whilst Peter Rabbit has appeared in books and products in more than 110 countries throughout the world.
Penguin Ventures (part of the Penguin Random House Group) is committed to growing and protecting The Peter Rabbit™ brand and together with licensing agency, Silvergate Media, manages The World of Beatrix Potter™, one of the world's longest running and largest international literature-based licensing programmes.