Thursday, March 29, 2018 - 09:50
Leading domestic hard landscaping manufacturer, Bradstone, has launched a new glossy brochure ahead of the 2018 gardening season.
Designed to bring a wealth of information to the fingertips of professional landscapers and homeowners alike, the new 187-page brochure focuses on inspiring readers through a series of product pages – catalogued by product for ease of navigation to include Porcelain, Concrete, Natural Stone and Driveway Block Paving - plus fantastic, aspirational photography from Bradstone's very own Assured installers to showcase the stunning results that can be achieved.
The new brochure also includes an aspiration design section at the front of the brochure, highlighting the three design trends for the year which include 'making the most of your smaller space', 'Seamlessly connecting your indoor and outdoor spaces' and 'At one with, and inspired by, the world'.
Details of the Design service, in partnership with award-winning designer Paul Hervey-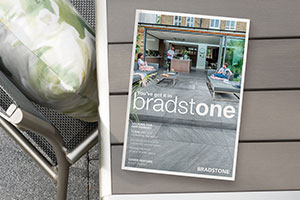 Brookes, and Bradstone's network of Assured installers are also included - testimony to the company's commitment to helping landscapers and stockists add further value to their service. 
Andrew Singleton, sales director for Bradstone, comments: "The new brochure demonstrates the breadth of choice and quality products that working with Bradstone offers, as well as showcasing the latest garden trend designs. Many of the images featured within the brochure were designed and installed in customers' homes by our experienced team of Assured installers, which showcase the quality of work and creativity that can be implemented using our products. At Bradstone, we always want to remain one step ahead and we hope our new brochure helps inspire customers and becomes a valuable marketing tool for our installers and merchants."
To find out more please visit www.bradstone.com 
To request a copy of the 2018 Bradstone brochure, you can contact 01335 372 289 or email at: bradstone.garden@aggregate.com