Friday, January 18, 2019 - 09:24
Phil Tremayne, general manager of the Association of Professional Landscapers (APL),  tells Garden Trade Specialist about the skills shortage in the industry…
The skills shortage in landscaping has been an ongoing problem for many years. There has been a great difficulty in getting young people engaged in this sector, with many wishing to follow the pathway of computer and media-based careers. This issue has now started to reach a critical point.
Many existing landscapers full of passion and experience no longer have the knees and backs to continue and some of the great landscapers of our time are hanging up their trowels and spades and not being replaced.
Many organisations have strategies to try and promote landscaping to the youth, and representatives and ambassadors from this industry are visiting secondary schools and colleges and the RHS are promoting horticulture at a primary level. But it still doesn't seem to make a great deal of difference so far.
Four years ago the APL took over the position of organising partner for the now named WorldSkills UK Live competition. The competition itself has its finals at the NEC in Birmingham in November and covers nearly every recognisable trade in the UK. Thousands of young people compete to become the best in their chosen profession and hopefully go on to represent their country in the WorldSkills Final in Russia in 2019. This truly is the Olympics of trade.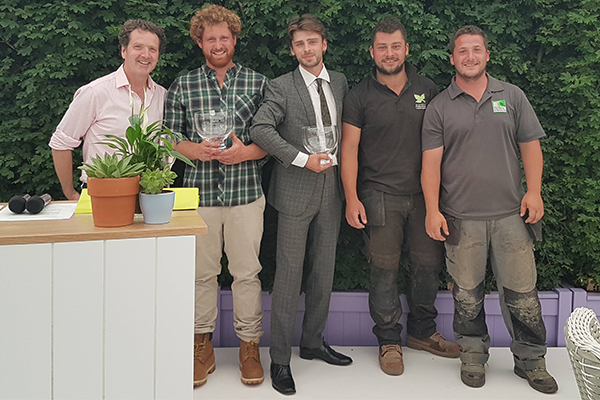 Landscaping has its own competition and from 50 applications we have had heats that have brought a final six to compete for the crown of WorldSkills Landscaping champion 2018. Competitors will have to build a garden from a blank plot on their own in just 16 hours of competition.
The APL felt this was one way they could support the young already engaged in the industry, but hopefully inspire others to have a go. The APL also organises the Young Landscapers of the Year Competition at BBC Gardeners' World Live.
To create a pipeline to the competitions, the APL created and organise its own apprenticeship scheme in conjunction with Myerscough College. This block release scheme is industry-backed as many of our members deliver the training at the college ensuring industry standards and pace are adhered to. We have also recently become the accrediting partner for John Lewis Home Solutions Landscape Service, which we really hope will help raise the profile for landscaping amongst the public.
With limited time and limited budgets we all do that we can, and we certainly are not the only in industry in the construction sector that is struggling with recruitment.
It is sometimes that we are blighted by our own popularity. "Gardening the nation's favourite pastime." For us this is not simply a pastime, it's a gateway to other people's pastimes. We just need to try and get this message across.
Other parts of the sector possibly don't struggle as much. Landscape design benefits from an enormous amount of career changers and this is possibly a good area for us to be looking too. That is why in 2019 the APL will be looking at partnering with members training facilities to be able to provide masterclasses for these individuals to get them up to speed.
Landscaping is a fantastic profession and is a highly multi-skilled occupation. The amount of materials and concepts that are available now are fantastic, and then there is the abundance of plants available to finish off the landscapes we all enjoy.
So all I can say is that if you want an outdoor, creative, inspiring and rewarding career. Choose landscaping. It's construction and so much more.
For more information on a career in landscaping, see landscaper.org.uk