Monday, June 4, 2018 - 09:47
To take advantage of the uniquely British obsession with the humble strawberry, leading garden product manufacturer Stewart Garden's strawberry planter is the ideal solution for keen gardeners who want to grow their own fruit at home, but may not have a great deal of space to do so.
The versatile planter, which can be double or triple stacked to save space or to create an alluring cascade of strawberry plants, can also be used as a herb planter for gardeners who want more choice regarding the produce they grow.
The planter, made in the UK from premium grade, recyclable plastic is both lightweight and long-lasting, so customers can take advantage of the benefits it offers for years to come. In order to successfully plant and grow strawberries in their planter, gardeners will simply need to choose a quality potting soil and ensure plants are given regular access to sunlight and water, as plants in containers are liable to dry out more quickly than those grown regularly in the garden.
Alan Slack, marketing manager at Stewart Garden said: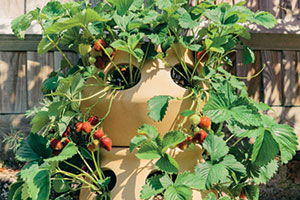 "Summer in the UK has long been associated with strawberries, with the country's premier tennis tournament, Wimbledon, going through around 28 tonnes of the sweet, seeded red fruit each and every year." With better weather just around the corner, what better time is there for us to bring out this product, which enables anyone to grow their own strawberries at home, whatever outdoor space they may have?"
"We feel that this planter will tap into the 'grow your own' culture currently prevalent in the UK and we hope it encourages more people to get their green thumbs!"
The Strawberry Planter, available for around £19.99, can be purchased from a range of Stewart Garden stockists across the country. Based in Banbury, Oxfordshire, Stewart Garden is a proud British manufacturer which has been in business since 1945.
The company offers a range of high-quality products to its consumers, all while following lean manufacturing principles and following relevant standards to minimise the impact it has on the environment.
Stewart Company is part of the wider Keter family and is therefore able to benefit from its parent company's resources to increase its market share in the UK.
For strawberry planter enquiries, contact 0131 357 8977 or email pr@redheadpr.co.uk