Andrew Singleton, Sales Director at Bradstone, answers Garden Trade Specialist's questions on the aggregate products company…
Tell us a little about the history of Bradstone.
"Bradstone is an Aggregate Industries business, with over 60 years' experience in helping homeowners transform their outdoor spaces. We have been offering an all-encompassing range of garden and driveway products since 1956 and, calling upon these years of experience, we are able to design and develop products that set the standard for quality, performance and visual appeal. The philosophy behind the range is to provide inspiration for homeowners to achieve the garden or driveway of their dreams. It drives what we do in product development and pushes us to remain at the forefront of cutting-edge design." 
What is your best-selling product at the moment?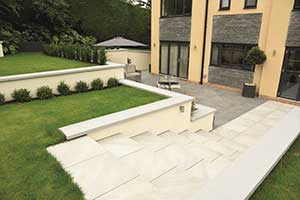 "2017 saw a continued investment by Bradstone in our product offering with the introduction of a number of new and innovative products to existing lines. Porcelain, whilst still a small segment of the overall market, is where we've seen the major growth in the last 18 months alone and we're expecting this growth to continue in 2018. 
"We entered the porcelain market back in 2015 when we launched our Mode porcelain paving range. Taking design cues from inside the home, we initially launched 600mm x 600mm pavers in two finishes and four shades. Quickly, demand exceeded our expectations. As a result, we added a 600mm x 300mm oblong paver to the collection to offer greater design possibilities and laying patterns, and introduced a new wood-effect porcelain paver, Madera, as a premium alternative to decking. In response to the exponential market growth, we quadrupled our porcelain range for 2017 and we've made more additions to our 2018 collection, which is selling very well. "
"The extended range is vibrant, with a range of styles and multiple size options, and includes the most contemporary paving products you will see on the market. It features Manzano which combines polished concrete with a range of mosaic tiles; mosaics being another big trend at the moment. Aspero is a riven profile paving in an easy-to-use patio pack which is proving very popular with homeowners due to the ease of laying.  Causse is dark porcelain paving designed in the style of Belgian Blue Limestone, a grey-blue stone, and contains small fossils in the pattern.  The range also features Pauta, which looks as close to natural granite as you're ever going to get. It's available in two different shades – Silver Grey and Mid Grey – and this year, we've introduced a new, larger 900mm x 450mm paver to create a more dramatic look."
"To our Mode Profiled collection, which features mica crystals to create interest and sparkle, we've added a range of steps and edging in four shades to help customers achieve a coordinated look. We also have a number of patio packs in our porcelain collection due to the growing demand – and we've developed waterproof packaging specifically to suit the merchants' yard, meaning it's much easier to stock the product on site in damp or wet conditions."
"Guaranteeing a property's kerb appeal is another factor we see motivating consumer purchasing habits, with concrete block paving still the material of choice for driveways. While we offer a good range of both traditional and contemporary driveway solutions, our Woburn Rumbled block – a real stalwart in the Bradstone range – continues to be an incredibly popular choice, offering the aesthetics of a cobbled stone with a traditional rumbled finish and smooth rounded edges. What sets it apart is that it is traditionally manufactured. It is put into a drum and rumbled, rather than just distressing it from the top. This gives it its authentic finish – and is why it continues to be top of the list for driveway products."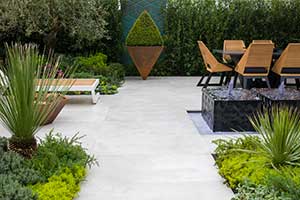 Where do you supply Bradstone products to?
"Bradstone products are supplied through a nationwide network of builders' merchants and retailers. We carefully select our partners to ensure they are equipped with expert advice and, at some in branches, you will be able to see our products on display."
Why is Bradstone ideal for retail spaces such as garden centres and farm shops*?
*Please note Bradstone is not stocked in farm shops
"Garden centres can build good outdoor paving displays aimed at inspiring the consumer by visually bringing their project to life. No matter how big or small the space garden centres have to work with, displays should provide a great source of inspiration to customers walking through the doors. There are some great examples out there of garden centres leading the way."
"Over the last few years, we have heavily invested in our Point of Sale (POS) materials to help support our stockist partners drive sales. Our latest stand designs are more durable and functional than ever before, and have been built to withstand weathering and colour fade. Products can be used interchangeably on the stands, allowing stockists to keep the displays fresh and interesting for customers visiting their store. "
"Not only is it easy for customers to browse the variety of materials, textures and colours available, the eye-catching visuals have been designed in response to the latest consumer trends to help realise the design possibilities available when using Bradstone products. The units not only look fantastic in situ, they also offer complete flexibility to ensure they continue to work hard all year round."
Do garden centres host display areas for Bradstone? 
"We work closely with 12 garden centres across the UK, with Bradstone show garden displays exhibited at selected locations. We are looking to increase our POS exposure in garden centres in 2019-2020." 
Where is Bradstone going in the future, what business plans are in the pipeline?
"The continued interest in high end design outdoors means the bar is constantly raised on what consumers want and expect from external paving products. These days whatever look can be achieved indoors, homeowners are looking for externally too. We make it our mission to stay ahead of consumer expectation through investing in new product development and creating unique range extensions, by taking inspiration from consumers, our stockist partners and the latest interior design trends from around the world. The shift in consumer attitudes towards investing in the outdoors for the long term is driving a desire for premium paving and consequently a significant opportunity for manufacturers and retailers alike. 
"This year, we're expecting to see continued growth of porcelain and value added stone. Our new products for 2018 have been developed in direct response to consumer trends and, as such, we're expecting these to perform well too. The modern, contemporary look is still very much in demand and as such, retailers should be targeting high value projects, which are less affected by any economic issues."
To find out more, and to request the 2018 brochure, please click here.
For further media information or any other Bradstone information, please contact:
Claire Gething or Gemma Hitchcock
Whistle PR
T: 0121 517 5177