Tuesday, October 29, 2019 - 12:38
Wyevale Nurseries Ltd says it is investing in the future with strong growth predicted
 
ONE OF the UK's leading nurseries says it is investing in the future and has seen exceptional demand for British-grown stock.
 
Wyevale Nurseries Ltd says it's able to supply British-grown plants from its extensive production facilities in Herefordshire into a market struggling to secure its supply-base for the next season and beyond.
 
Andy Johnson, Director at Wyevale Nurseries, which celebrates its 90th Anniversary in 2020, said: "As a company we are going from strength to strength and investing significantly in the future and our teams in order to drive production forward. We are also continuing to develop links with leading plant breeders and raisers, taking in quality young stock to supplement our own propagation.
 
"The demand for British grown native tree and transplants has been exceptional and our doubling of our cold storage capacity is currently nearing completion at our market leading transplant facility.
 
"With the increased biosecurity risks, trading restrictions on certain plant varieties and uncertainty over Brexit there has never been a better time to maximise the sale of British-grown product.
 
"We also recently completed phase two of our new container tree area, which is set to see additions year on year. We are also continuing to develop further beds within our specimen shrub unit and creating capacity for further development of our premium 3L shrub business in the process."
 
Wyevale Nurseries' main business is to supply garden centres, landscape contractors, local authorities, foresters and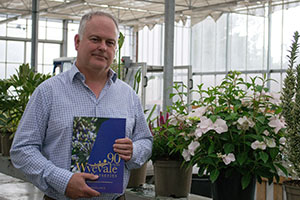 landowners with a comprehensive array of trees, shrubs, hedging, herbaceous and specimen plants.
 
The product selection available from Wyevale Nurseries is envied across the industry and the talented team regularly introduces new award-winning plant varieties.
 
Andy added: "Our business came from humble beginnings. Our founder, Harry Williamson, was an innovative grower, starting in the early 1900s with a bare root rose and tree nursery – Kings Acre Nurseries. In 1930, he established the current company Wyevale Nurseries.
 
"Inspired by trips to America in the 1950s and seeing plants being sold in containers to homeowners, in 1963, Harry opened one of the first garden centres in the UK. This was situated on Kings Acre Road in Hereford, just opposite his nursery fields, selling plants he had grown in empty jam tins from a nearby factory.
 
"We continue with Harry's ethos to be market leaders in the production of container grown shrubs, herbaceous, ferns, trees and transplants. This is combined with excellent customer service, provided by the friendly, motivated and knowledgeable staff.
 
"Product development is critical to keep ahead of market demands and availability, current trends and alternatives for disease susceptible varieties. We have formed strong relationships with young plant breeders and are now at the forefront of introducing new varieties, which will be sustainable long into the future. Our dedicated trials area means we continually assess and develop new varieties before going to market." 
 
For further details about Wyevale Nurseries, which is based in Hereford, please call 01432 845 200, visit www.wyevalenurseries.co.uk, follow the company on Twitter at www.twitter.com/WyevaleNurs or log on to www.facebook.com/WyevaleNurs.