Friday, May 24, 2019 - 09:13
VegTrug Ltd have expanded their Greenhouse range with the recent launch of the Tomato Greenhouse, a product specifically designed for growing tomatoes and making the process fuss free, perfect for all gardeners either experienced or inexperienced.
After the success in sales with the original VegTrug Nursery Greenhouse, an individual wooden greenhouse that comes equipped with an excellent quality and long lasting PE cover, there is now an expansion for the range. The Tomato Greenhouse is larger in size, features movable shelving slats that are great for moving around the tomato plant as it grows, a slatted roof designed for tying supports and an innovative large drawer with wheels that can be slid out for planting. It is the perfect solution to growing cordon tomatoes (or any other) vine tomato plants, offering customers simple gardening and optimum quality crops. 
Joe Denham, CEO of VegTrug said "we as a company have identified a need for uncomplicated gardening, with the majority of the public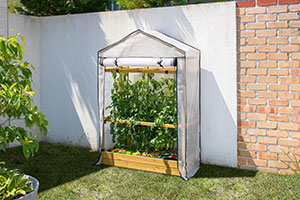 working full time, our products are designed for practicality and built for purpose, to make gardening just that little bit easier. With the Nursery Greenhouse and Tomato Greenhouse both being contained growing stations, this means your crops are straightforward to care for and ultimately makes growing your own that little bit simpler". 
The VegTrug Tomato Greenhouse is compatible with the Wallhugger Side Table and the VegTrug Nursery Greenhouse accessories range; Seed Tray and Crate. 
The new Tomato Greenhouse is available to purchase now from www.vegtrug.comand at a number of UK garden centres. To view local stockists and other products in the VegTrug Greenhouse range, please go to www.vegtrug.com.