Wednesday, June 5, 2019 - 10:54
The makers of beautifully designed hand-made sheds, The Posh Shed Company will be displaying two of its sheds in Royal Horticultural Society's (RHS) new 5,000m² plant centre at Wisley, near Woking.
The space, due to open to the public on June 10, has been expanded to meet the needs of gardeners who have just started growing, as well as those who have been growing for years. Top quality plants will be available, for indoors or outside, for home or business.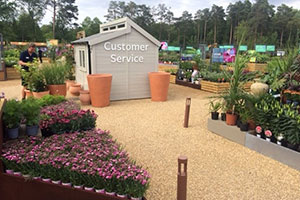 On show in this area will be the company's classic Chelsea shed. This traditional structure provides essential storage space, in a compact stylish design.  It features a side storing area that has removable shelving and a secure lockable inside area, making it perfect for efficiently storing a range of items. The cosy design gives a clean-cut appearance and the cedar shingle roof add colour and vibrancy to the new visitor zone.
The Posh Shed Company also has on display a bespoke Contemporary shed, which will be used by the RHS as storage to support its' retail operations. The neat straight lines of this structure create a modern and contemporary statement whilst the unusual offset roof adds height.
Richard Frost, managing director at The Posh Shed Company said; "We are pleased to be working with our partner, the RHS, on such an exciting new project for 2019. Not only will our sheds give the public a first-hand experience of just how beautiful a Posh Shed is – they will also be in the focal feature in the RHS's new plant haven."