Tuesday, September 24, 2019 - 09:28
Johnsons Lawn Seed, the UK's oldest seed brand with a prestigious track record of grass seed breeding and innovation, is getting ready to celebrate 200 years at the forefront of the lawn care business in 2020.
The company, now owned by Danish co-operative DLF Seeds, was founded in 1820, the year in which King George IV ascended to the throne. The story began when 17-year-old entrepreneur William Wade Johnson, a keen botanist, bought some land in Boston, Lincolnshire, and set up in business as a market gardener.
William selected his finest plants to grow on and produce a seed crop, so he could start selling seed from his stall – and in doing so, he sowed the seeds of a business that would flourish and evolve to become a household name. Two centuries later,Johnsons Lawn Seed remains firmly established as the UK's leading lawn seed brand, offering an unrivalled portfolio of trusted products that deliver the ultimate in performance for gardeners.
Johnsons Lawn Seed's Guy Jenkins said: "Two hundred years spent at the leading edge of grass seed innovation is a formidable milestone, and one that everyone at Johnsons Lawn Seed should rightly be proud of. The nation's gardens have changed beyond recognition, but Johnsons' commitment to providing the best-performing lawn care products remains at the heart of everything we do.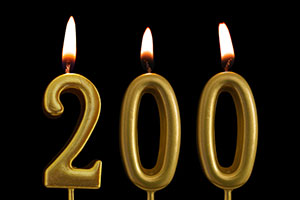 "With our parent company DLF Seeds pumping €14million into research every year, Johnsons Lawn Seed will be bringing to market further innovative products that have been engineered to perform in a warming and more unpredictable climate. Prior to launch, our innovations are exhaustively trialed in the most demanding of conditions, to ensure that lush, green lawns remain the focal point of the nation's gardens. Here's to the next 200 years!" Guy added.
The Johnsons Lawn Seed brand comprises a market-leading portfolio of top-quality products, consistently offering superior performance. Luxury Lawn, Shady Place, Tuffgrass, After Moss, Quick Lawn and Lawn Thickener Lawn Seed have become the go-to products for gardeners' lawncare requirements, while Super Smart Lawn Feed has transformed the market for eco-friendly lawn fertilisers with its pioneering, scientifically-proven, 100% natural and organic formula.
How Johnsons Lawn Seed played a key role in the evolution of UK lawns
1820 – Keen botanist William Wade Johnson, aged just 17, buys land at Boston in Lincolnshire and sets up a market gardening enterprise. Harvesting seed for sale, the business later expands from a market stall to a shop in the marketplace.
1830 - Edwin Budding invents the cylinder mower, an adaption of a machine in a textile factory where he worked as a foreman.
1832 - Ransomes starts producing lawnmowers, ending the age of cutting grass by scythe. Small mowers cost seven guineas while larger models were priced at a costly 10 guineas.
1842 - The inaugural horse-drawn mower makes its debut.
1869 – Johnsons Seeds acquires bigger premises. William Wade remains at the forefront of the business, assisted by his son Alfred, also a botanist. Alfred developed breeding and selection programmes, laying the foundations for improved seed strains with which the Johnsons name became synonymous.
1885 - The first lawn seed trials are reported to have started in America.
1893 - Steam-driven lawnmowers go into production.
1899 – Following Alfred's death, Mr EJ Deal is appointed as General Manager of Johnsons Seeds, joining the business from Suttons of Reading. By the turn of the century, expansion into the wholesale and general seed trade saw Johnsons offer specialities including peas, beans, cabbages, carrots and seed potatoes, as well as flower and grass seed.
1911 – Large new purpose-built premises are opened in Boston, processing seed to sell around the world.
1929 - Research into lawn turf gets underway at a research station in Bingley.
1960 - The first lightweight electric mowers appear, followed by the revolutionary hover mower from Flymo later in the decade.
1998 - Johnsons Lawn Seed is bought by Perryfields.
2001 - Perryfields is bought by Danish co-operative DLF Seeds.
2020 - Johnsons Lawn Seeds celebrates its 200th anniversary.
Find out more: To find out more about Johnsons Lawn Seed products please visit http://www.johnsonslawnseed.com/product-range.aspx