Thursday, October 24, 2019 - 14:00
First look at progress made so far at Haskins Garden Centre Snowhill's redevelopment
Ealier this year, the popular Haskins Garden Centre based in Crawley opened the doors to its temporary building at the Snowhill site.
Phase one of the Snowhill centre's redevelopment plan has now been completed, including:
New temporary building erected

Half of new car park completed
Car Park entrance has moved
New landscaping and trees in place
The Snowhill centre redevelopment plan is a 12-month project which will culminate in the main centre re-opening for business in spring 2020. In the meantime, Haskins will continue to trade in its temporary building.
Haskins worked with Barnwood Construction Ltd., to install its temporary building while work is underway to create a new permanent facility.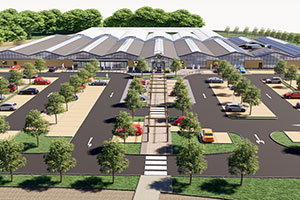 The temporary centre covers an indoor retail space of 1,575sqm and boasts a significant outdoor plant area (900sqm) as well as a 180-seat café.
Phase two of the redevelopment plan is now underway, which includes:
Working on demolishing the old building
Starting to build the new garden centre
The new Snowhill centre opening in spring 2020 will boast a retail space of 11,813 sqm, including an outdoor plant area and 440-seat restaurant, with space for 170 restaurant guests on an outdoor patio. Car parking will also be improved with 346 spaces available.
Haskins is located in Snowhill Lane, Copthorne, West Sussex, RH10 3EY. For more information visit www.haskins.co.uk