Wednesday, January 23, 2019 - 12:33
Haskins Garden Centre has partnered with Ferring Primary School to donate houseplants to the school in Worthing.
The head teacher of Ferring Primary School, Mrs. Silk, visited Haskins in Roundstone on Sunday January 20 to meet with Nick Joad, general manager of the Roundstone garden centre, and to collect a variety of houseplants for the school.
Haskins' donation will benefit staff members and students at the school, which selected the following houseplants:
Phlebodium Fern
Maranta / Calathea
Tradescantia
Bromeliads
Houseplants help to make the air less toxic by purifying the air and eliminating any volatile organic compounds. Studies also show that humans are generally happier when surrounded by a plant. Rooms can be full of airborne pollutants, with carpets, paint and even people harbouring toxins - especially in the winter months, when windows are closed to the cold air outside and central heating is ramped up indoors.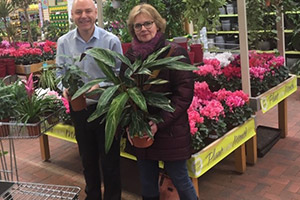 Nick Joad, general manager at Haskins in Roundstone, commented: "We're delighted to have partnered with Ferring Primary School to help raise awareness of the benefits that introducing a green leafy houseplant into a school environment can bring. We teamed up with the school to kick-start the New Year and help boost concentration, improve air quality and reduce stress levels by providing them with complimentary houseplants."
Mrs. Silk, head teacher at Ferring Primary School, added: "We are very grateful to Haskins for the various houseplants that were donated to us. Children and staff have commented on how attractive the plants are and how cheerful they make them feel."
Haskins Garden Centre in located in Angmering, Littlehampton, West Sussex. Click here for more information.