Wednesday, December 19, 2018 - 10:31
Haskins in Ferndown has spread a little festive cheer this Christmas by donating four handmade wreaths to Forest Holme Hospice.
The wreaths, each taking on a different Christmas-themed design, were created in-house by Haskins' gardening experts, in line with this year's festive trends. This year's designs include a Copper Snowflake Wreath, a Ribbon and Holly Wreath, a Unicorn Wreath and a Santa Hat Door Hanger.
Forest Holme Hospice funds specialist care for patients living with advanced cancer and other life-limiting illnesses across Poole, Wimborne and the Isle of Purbeck.
Paul Tucker, fundraising manager at Forest Holme Hospice, said: "We were absolutely delighted to get these beautiful wreaths from Haskins, which have been greatly appreciated by both patients and staff. Christmas is always a particularly difficult time for families at Forest Holme, so to have this lovely donation has really helped bring a bit of festive cheer to the hospice."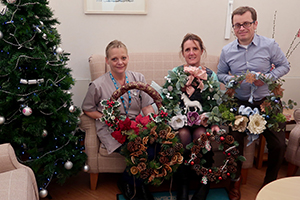 Alasdair Urquhart, in-house plant expert at Haskins in Ferndown, commented: "We donated four of our best wreaths to the hospice as we like to give back to the local community wherever we can. All of our Christmas DIY tutorials can be found on our YouTube page, where we have broken each wreath down into simple 'make your own' steps."
Haskins is located in Ferndown, Longham, BH22 9DG. For more information visit www.haskins.co.uk