Three ways to enjoy your greenhouse
Tuesday, May 14, 2019 - 16:08
Being inside a greenhouse can create an overwhelming sense of calm, the natural light combined with the warmth and the sound of trees or birds outside can provide a sanctuary for a number of different activities.
"Glasshouses and greenhouses are more than just places to grow and nurture plants," says Griffin Glasshouses' Linda Lane. "Our customers like to get the most from of their investment and often use them as an extension of their living space.
"Our free-standing greenhouses make the perfect location for a multitude of activities; the distinctive design means that the structure can either be placed in a secluded spot in the garden or close to the house. Being freestanding allows light to pour in from all angles and the range of features available are designed to offer customers maximum flexibility, ensuring they get a glasshouse that is perfectly suited to them."
Planting 
Of course the number one way to enjoy your greenhouse is to grow plants, whether it's growing them from seed to be planted out, or to create the perfect conditions for certain varieties, a greenhouse provides the light and protection needed to help them thrive.
Relaxing 
Whether it's spring sun beaming down or the surprisingly therapeutic patter of rain on the glass, a greenhouse can be utilised for relaxing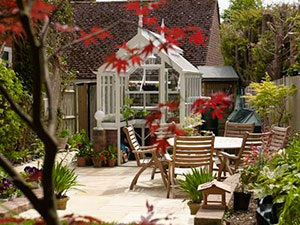 with a good book in a comfortable chair or used to entertain friends with a cup of tea or something stronger.
Hobbies  
Greenhouses are ideal for activities that require concentration due to the quiet atmosphere, the natural light will create perfect conditions for creative pastimes such as drawing and painting, especially if the subject is in the garden. Needlecrafts such as knitting, crochet or sewing and even calming exercises such as yoga or tai chi could be undertaken.
Griffin's Freestanding greenhouses are completely bespoke, each design is tailored to the customer from the styling to the colour, plus the full range of accessories means each structure can be personalised to suit its use whether it is for hobbies, relaxing, planting or something else!
To find out more about the company's greenhouse collections and bespoke services visit www.griffinglasshouses.com or call 01962 772512.