Monday, June 24, 2019 - 10:58
Following a busy day of judging at Warwick Racecourse (20th June), where around 170 entries were considered, the winners of the 39th annual GIMA Awards have now been confirmed. However, the garden retail industry has to wait a few more weeks to find out who wins, when this year's winners are revealed on July 4th at the five-star Celtic Manor Resort.
The 2019 judges certainly had some tough choices to make. With over 170 products, services and campaigns fighting it out to receive the highly respected accolade of GIMA award winner, it was safe to say that the competition was tight. However, after much deliberation the judges - Andy Smith (Head of Buying at the Klondyke Group), Tammy Woodhouse(Managing Director at Millbrook Garden Company), Christopher Ray (B&Q's Outdoor Category Manager), Adrienne Wild (Gardening Editor & Columnist, Sunday People and Woman's Weekly), Sharon McNair(Commercial Director at Tong Garden Centre), Lucy Hall (Editor of BBC Gardeners' World Magazine), Neil Pope(Editor of Garden Trade News), Stuart Whalley (Blue Diamond's Head of Product Development), and Mary Bunting(QVC's Home and Seasonal Buyer) – made their final decisions on who will be taking home one of the fourteen coveted trophies come July 4th. Two additional awards – the Export Achievement, and Supplier of the Year – have been judged by Gardenex and the GCA respectively.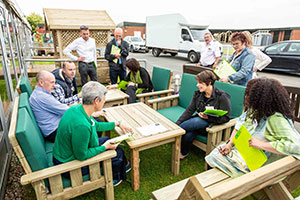 GIMA Director, Vicky Nuttall said: "As always a huge thank you to all our judges for volunteering their time. Their input, keen eye and industry knowledge has helped to create a highly deserving list of winners, which was no mean feat when you consider the standard and breadth of products on offer. We very much look forward to revealing all the winners in a few short weeks, and thank all of those brands that entered in 2019 – once again you have surpassed all expectations!"
Available spaces for the 2019 GIMA Awards are now limited so interested parties are urged to book their place as soon as possible to avoid disappointment. With celebrity host Vernon Kay confirmed, it is set to be an incredible night of celebrations.
To find out more about how to book one of the few remaining seats at the GIMA awards 2019 please visithttp://gima.org.uk/gima-awards/. Prices for GIMA members: £319 + VAT per person, or £2,999 + VAT for a table of 10, whilst non-member costs are: Non-Members:    £379 + VAT per person, or £3,790 + VAT for a table of 10 (all costs include dinner and accommodation).
Why not also join in the conversation on Twitter and Instagram by using the hashtag #GIMAAwards19.