Friday, June 21, 2019 - 09:58
Artificial grass sales are booming, with one retailer* reporting a growth of 20% already this year – before the summer season has even begun. Last year thousands of British lawns were scorched, while this year homeowners are tackling boggy and muddy lawns due to heavy rainfall. For many, lawn maintenance is a costly headache, and of course there are those that just want to ditch the lawn mower so there is one less chore around the home.
The team at Ultimate Grass (www.ultimategrass.co.uk) carried out a survey to really unearth why so many homeowners are opting to fake it, swapping traditional turf for look-alike lawns.
From the 1000 UK adults surveyed, nearly a third (29.2%) said their reason for buying artificial grass was 'not having to cut the grass'. 21.9% said it was because their grass was problematic – mossy, boggy, patchy etc. 15.4% said simply for 'aesthetic' reasons and a further 11.9%% said 'because it's better for the kids to play on'.
Hay fever, affecting around 10million UK adults, was the catalyst for 11.9% of respondents substituting their real grass with man-made.  The remaining 10.8% was split between the elderly or disabled who struggle with the upkeep of a real lawn (6.4%) and new homeowners keen to enjoy their garden quickly (4.4%). 
Daniel Prendergast from www.ultimategrass.co.uk said: "As our lives get busier, people are looking for new ways to save time spent on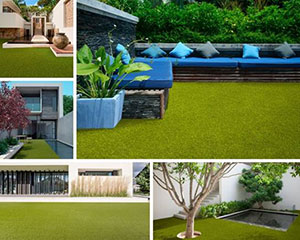 daily chores around the home – like cutting the grass. The maintenance required to manage a garden can be very time consuming, and artificial grass cuts down maintenance time as well as money spent on trying to make the lawn green and 'carpet like'.    
"A big trend this year is to make outdoor living spaces more like our interior decor – we're adding rugs, lighting and soft furnishings to recreate the indoors outdoors and artificial grass is part of this trend – to be clean and look fabulous. It's a bit like 'Hinching' your garden!  The space is cleaner with a consistent appearance."
Daniel added: "Artificial grass keeps gardens looking their best all year-round: it looks as good in winter as it does in summer with no scorching or brown patches where it hasn't grown properly.
"It's a quick fix for new homeowners too, allowing them to enjoy the garden much sooner than seeding a lawn or laying turf.  And for those with limited mobility such as the elderly or living with a physical impairment, it's a safe and easy to maintain solution."
"For families with young children and pets, the non-toxic, hard-wearing surface means the lawn stays looking great no matter how much it's played on and means no more muddy footprints to clean up. Any homeowner knows the frustration when mud is trailed through their house, so it doesn't surprise me that this ranked in the top reasons people invest in artificial grass.
"We're often asked about how pet friendly artificial grass is with regards to soiling. The product is fine when soiled on.  Pet urine passes through it and the pile is easy to clean with mild detergent.
"While artificial grass is most popular for lawns and gardens, it's also ideal for patio and balcony installations (or by swimming pools for the lucky few!).
"When choosing artificial grass, longer pile lengths typically (but not always) provide a denser, softer and more luxurious finish. If you want a lush looking, premium finish you should also review the weight per m2 ratings.
"All our products have a 'thatch' effect - a beige/brown curled pile that sits below the green strands and creating the impression of cut grass within the product – it's more realistic and increases the density."