Thursday, October 24, 2019 - 12:38
A visit to Frankfurt's Christmasworld 2020 in January is a great way to start business planning for 2020 and to see the world's most comprehensive range of seasonal and festive decorations. In 2019, 45,000 visitors and 1,080 exhibitors from 44 countries around the globe attended, and the event continues to attract key players in the sector.
Within its multiple halls, it's a perfect forum for B2B networking and discovering the latest trends, and a perfect opportunity to meet manufacturers, experts and colleagues from all over the world to share ideas and insights. It can also be a great way to develop skills and know-how. Expert lectures are presented in German and English, and participation is free of charge.
Workshops provide practical examples to help stay up-to-date in this creative and dynamic sector with highlights including designer Claudia Herke from Stilbüro bora.herke.palmisano design studio, who will be on hand to give valuable tips on trends and shop design. 
In the Retail Boulevard, visitors can step into a number of different pop-up stores, showing how a sales concept for the future can become more engaging, convenient and service-orientated.
In a world of discerning customers, every business is looking for new and innovative ways to expand business potential and to look at how festive decoration can help deliver stunning displays within commercial and public spaces, and a 'wow factor' to drive sales and get products noticed, especially in shop windows or at points of sale.
Every year Christmasworld aims to keep visitors engaged and informed, and for January 2020, the show will celebrate the tenth anniversary of its collaboration with 2dezign. The creative consultants from the Netherlands have constructed a series of themed worlds where visitors can explore a whole range of exciting products and atmospheric displays. The two designers from the Netherlands are renowned for their exciting interior decoration, floral design and creative campaigns. Their stunning display, Dark Ocean creates a stylish, warm, welcoming interior, a comforting refuge from the cold bleak winter weather outside, a visitor experience not to be missed.
Seasonal and festive decoration would not be complete without fresh flowers, plants and ready-made flower arrangements. In today's market, people are looking for a combination of colours and greenery but convenience and longevity are key elements so realistic artificial flowers and plants are also in high demand. The artistry and technological innovations in the industry in recent years have produced incredible, dramatic and authentic blooms that take pride of place in homes and businesses alike. The wide use and popularity of these flowers, from consumers to interior designers, has created a huge demand. Examples of all these products can be found in abundance in Floradecora in hall 8.0.
Christmas trends for 2020/21 suggest sociability, particularly around family matters, is the way to go, and sharing plays an important role in this.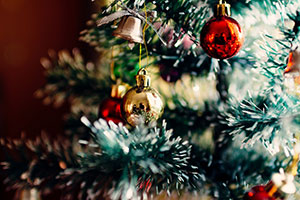 Three style themes are explored at the show: silken party, green ritual and happy get-together. Green ritual explores how natural vegetation can contribute to design, using light and colour to create mood and atmosphere across the seasons.
The show's 'Premium' business programme is another interesting aspect of the event. It will focus on how social and consumer space can be made more attractive, offering guided tours of the show to representatives of towns, cities and local bodies, as well as to retail trade visitors. To support this theme, on 27 January Ibrahim Ibrahim, CEO at Portland Design Associated London has been invited to deliver the keynote speech around the subject of 'Urban Regeneration'. His speech: Urban regeneration: the internet will not kill shops, it will liberate them!" covers a highly relevant topic. Addressing the needs of consumers, his narrative is around services, emotional experiences and convenience, now and in the future. Portland Design, is a leading international branding and retail design agency, specialising in brand design and loyalty, consumer behaviour in both the digital and real world, and includes urban change as one its key areas of expertise.
This is an event with something for everyone, and visitors to Christmasworld have the added bonus of access to two other exhibitions on site running concurrently. For a more holistic experience, exploring the creative synergies with Paperworld in Hall 4.0. as well as artistic opportunities with a seasonal focus at nearby Creativeworld makes the journey complete.
With so much on offer, there's a world of opportunities for all seasons at Christmasworld 2020!