Tuesday, June 6, 2017 - 09:24
Utilise your outdoor space as another room
The trend in recent years has been to utilise your outdoor space as another room and not just as a place for growing plants or as a football pitch for the children. Create an enclosed space by putting up screens and covering them with climbers; add a parasol and you will have created a private, enclosed space. 
You can make your garden almost as warm and comfortable as being indoors, with stylish fire-pits and outdoor fires, comfortable all-weather furniture and warm snuggly throws.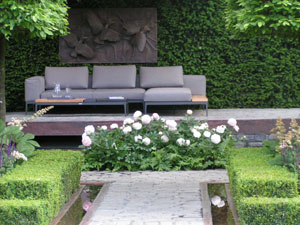 Gone are the hard ornate cast iron and plain wood garden sets and 'in' are the comfortable deep seated synthetic rattan armchairs and sofas. Good quality sets can be left outdoors all year round and won't fade or split in the winter.
The clean contemporary lines of the rattan furniture are perfectly matched to the clean lines of the Scandinavian styled outdoor fires. Add warm wool throws in a cool, muted Scandi palette and you have another stylish space for entertaining family and friends or simply relaxing after a hard day.
Barbecuing has become hugely popular, with barbecues, smokers and wood fired ovens to suit everyone from the novice chef to the gourmet. The stylish wood fired ovens from 'alfa' not only cook great food but also enhance that outdoor room feel. Not only do you get to eat delicious food, but the BBQ is a lot easier to clean than the kitchen and the oven, and no left over cooking smells to waft through the house. 
In this hi-tech age there are gadgets which link to your smartphone and will tell you to the exact degree when your food is cooked, so no more standing over the food watching it every step of the way. With barbecues becoming more and more sophisticated cooking charred sausages and burgers is a thing of the past.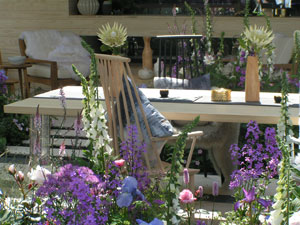 Vary the hard surfaces you use on the patio to add more interest; try mixing bleached wood, concrete and gravel in soft muted colours to match in with the cool contemporary furniture. In line with making your outdoor space more comfortable inject a shot of colour to the decking or patio with a bold colour blocked rug matched up to some scatter cushions and throws on your furniture.
If plants are not your thing just have single sculptural specimens in containers selected to match your garden furniture. Choose shrubs and small trees to plant in containers which need very little maintenance and are slow growing so will not need re-potting as often. If you like the look of a clean, crisp manicured lawn but don't want all the effort that goes with it, why not invest in some artificial turf. These days it is almost indistinguishable from the real thing.
Elevate your barbecuing to the next level by placing a container of mixed herbs next to your BBQ. Try a mixture of Mediterranean herbs, such as sage, thyme, oregano, rosemary, flat leaved parsley and lavender. If using the lavender for cooking make sure it is the culinary variety.
Brighten up your space with some colourful pots of bedding plants, readily available cheaply from your local garden centre or supermarket. If planting your own any colour combination is acceptable when it comes to summer bedding. You make sure that you are comfortable inside the house so why not make the outside just as inviting.
Hayes Garden World, quality garden furniture